Al Hall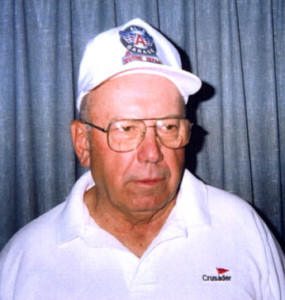 In a span of 48 years, Al Hall of Detroit has been the co-founder/ vice-president/flagman of AMRA, a driver, a pilot, a hydroplane mechanic/crew chief and and has been in the past been mechanic/crew chief of midgets, sprinters, champ cars, Indy cars and ARCA Super Cars. He has helped many drivers and owners from Carl Forberg to A.J. Foyt to the winners circle throughout the United States and Canada. He died in the spring of 2013. Al used to drive stock cars at the Detroit Fairgrounds. He married Trudy in 1967 and was the proud parent of three children, John, Cathy and Laura. He was also on the board of directors of the Michigan Auto Racing Fan Club, being their ticket chairman for 10 years. He was employed for Crusader Marine Boats as a mechanic. Al Hall was inducted into the Michigan Motor Sports Hall of Fame for all his contributions to the sport. He is another Michigander that everyone should be proud to know. Listed below are some of his highlights.
1948-1953 - mechanic: Jim White Chevy Midget. Drivers: Ralph Pratt, Neal Carter, Iggy Katona, Eddie Johnson.
1953-1955 - mechanic: Bill Lutes midgets and champ car. Drivers: Eddie Johnson, Ralph Pratt, Ed Elisian, Bob Sweikert, Don Brennan.
1956-1958 - mechanic/hauler driver: Federal Engineering Indy car. Drivers: Bill Cheesbourg, Bob Christie, Freddie Agabashian, Chuck Weyant.
1955 - mechanic: Jim McWhilley midget.
1955-1959 - mechanic: Carl Forberg midget Drivers: Johnny White (55-56), Ronnie Duman (57), Don Friend (58-59).
1958-1960 - mechanic/hauler driver: Bob Bowes Federal Engineering Indy and champ cars: (the crew chief was George Bignotti) Drivers: Bob Christie, Jud Larson, Bob Vieth, Johnny Boyd, George Amick, A.J. Foyt.
1960-1965 - mechanic: Gold Cup Hydroplanes "Gale IV", "Gale V", "Gale VI" and "Gale VII" Drivers: Eddie Sachs & Jim Ranger.
1966-1967 - mechanic: Jim Rangers Gold Cup Hydroplane "My Gypsy" Drivers: Bill Cantrell, Jerry Shenieth, Lee Shenieth, Bob Schroder, Eddie O'Halleran, Tom Foltz, Freddie Adler.
1967: Left racing with a broken back.
1970-1988: Co-founded American Midget Racing Association with Norm Powers. Served as vice-president and flagman.
1988-present - mechanic: Tom Fedorcyk midget.
1993-1996 - crew chief/mechanic: ARCA Super Car #53 Car owner: Bob Stevenson who owns Stevenson Auto Parts. Drivers: Doug DeGarmo, Kris Patterson, Gary Fedewa.