Bill Hanes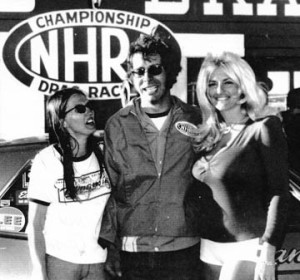 Bill Hanes from Lansing became interested in drag racing as a teenager. A Lansing native, he was 16 years old when he built and began competing with a home-designed dragster. The year was 1959, and Bill competed in his first major race that year at the NHRA Nationals, held at Detroit Dragway. The dragster was powered by a classic 354 Chrysler Hemi and was raced by Bill through the 1961 season.
Bill Hanes switched to the NHRA Stock Eliminator category with a brand new Chevy Bel-Air 2-door hardtop in 1962. The car was powered by a 327 c.i. - 250 h.p. engine. He ran in the "G" Stock Automatic class. With this car, Bill became a member of the legendary "Chevair" Racing Team, founded and managed by Dick Griffin. He won his first important title in the 1964 NHRA Nationals at Indianapolis, as he was the class champion in "G" Stock Automatic.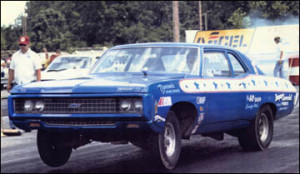 The late sixties was a period of hiatus from racing. First, an Army tour, followed by construction of a new home and race car shop.
Bill brought the '62 Bel-Air out of storage for the 1970 season. He and his ever devoted partner, wife Irene, debuted a new race car in the Super/Stock category, a 1969 Chevy Impala.
Bill and Irene did well in national points in 1973 at the Divisional Point Races. This feat earned them a berth at the 1973 NHRA World Finals at Amarillo, Texas. That sunny day was a good one for Bill. He won the event and became the 1973 NHRA Super/Stock World Champion.
1974 to 1981 were years of continued success for the Hanes' in Super/Stock. They won many national class titles, track championship, and even more national records in their respective classes.
Since 1982, Bill and Irene have competed with a two-car team in the Super/Street and Super/Gas categories. Bill passed away on December 27, 2021.