Steve Sauve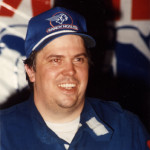 Steve Sauve from Saginaw started racing in 1976. He has amassed over 140 Super Late Model feature wins along with 10 track championships at Tri-City Speedway (1978, 1980, 1981, 1982, 1990, 1992, 1993, 1994, 1997). He has three track championships at Auto City Speedway (1990, 1993, 1997), and two at Dixie Motor Speedway (1982 & 1983).
He was the AC Delco Performance champion in 1994 and 1997.
He has competed out of state on a number of occasions and has won five times in the Iceman Series. He was the highest finishing rookie in that series in 1995.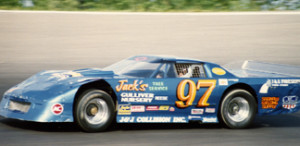 Steve has competed in the Main Event Series winning seven features, and was the Top Qualifier at all 4 Michigan events in that series in 2000, with 4 straight wins, 3 of the wins in three consecutive nights. He won the Dixie Motor Speedway Main Event Series Race three consecutive years, 1999, 2000, 2001.
Some of his highlights include winning the First Annual Harvest 100 at Spartan Speedway in 1983. He is a two-time winner of the Ohio De-Icer race on January 1st at Sandusky Speedway (1987 & 1988).
Sauve also has a win in the prestigious Mudslinger 100 at Auto City Speedway. He won it in 1993. He also won the Patriot 150 at Auto City in 2000.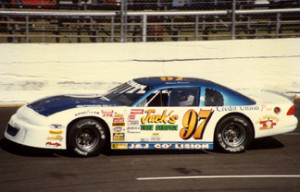 Another highlight in 2000, was being fast qualifier and finishing third in the Glass City 200 at Toledo Speedway, and in 2002, he won the event, leading all 200 laps! He has since reeled off two more Glass City 200 wins in a row.
In 2002, Steve had three wins in the Super 8 Race Series at Auto City Speedway.
In his long career, Steve has had over 650 feature race starts.