Erv Baumgarten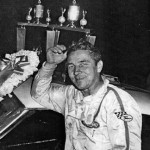 Erv Baumgarten was born on March 19, 1927 in Columbus Township, Michigan. He was one of five brothers (Ed, Don, Fred and Norbert) who competed in various forms of auto racing at tracks in their home state of Michigan and across the Midwest for over 25 years. He served in the United States Army during the latter stages of World War II. Erv married Joyce, his wife of over 39 years, on October 16, 1948. Together they lived in Mount Clemens and had two daughters Denise (married to Larry Lamay) and Debbie (married to Dave DeSmith). They had three grandchildren, Marc, Wendy and Robbie.
Erv became interested in auto racing at an early age while working on race cars driven by his older brother Don. He began his own driving career in 1954 behind the wheel of a self-owned "old model stock" at the Mount Clemens Race Track Park. In later years he drove late model super stocks for car owners Terry Gaddy and Charlie Newby. His crew members included Jerry Hier, Rich Kothe, Gene Marshall, Rex Moore and Mike Taylor. He was equally talented on both types of racing surfaces but preferred dirt to asphalt. He drove many types of race cars including the aforementioned old model stocks and late model super stocks along with hard tops, mod 6s, sprints and super modifieds.
Erv won the old model stock championship at the Motor City Speedway in 1958 and captured the Michigan Modified Stock Racing Association (MMSRA) crown that same year. He won the Mod 6 championship at the Dixie Motor Speedway in 1959 and the Mod 6 championship at the Mount Clemens Speedway in 1960 where he became known as the "Mount Clemens Flash." Always one of the most popular drivers in the familiar blue and white #108, Erv considered the Mount Clemens Race Track (MCRT) home. It was here that he set many track records, won numerous fast car dash, heat and pursuit races, and was a frequent visitor to victory lane as he won 34 feature events from 1961 to 1972.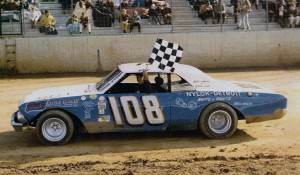 One of Erv's biggest late model super stock wins came in 1971 when he won the first leg of the prestigious Mount Clemens 200 against a field consisting of no less than seven current Michigan Motorsports Hall of Fame drivers including John Anderson, Butch Fedewa, Ed Howe, Ray Nece, Donnie Roberts, Bob Senneker and Art Sommers. Also entered in that race were defending track champion Marv Parenteau, Ohio dirt track star Larry Moore and Canadian legend Jack Monaghan. Erv capped off the year with victories in the season championship races at MCRT and Millstream Speedway. The 1972 season at MCRT proved to be even better as Erv captured nine feature events including another 100 lapper - once again against some of the all time greats in dirt track racing.
Because of the extremely high level of competition that he routinely battled on the Michigan short tracks, Erv never hesitated to go on the road and take on the best drivers in the country. He often traveled to some of the biggest dirt track shows of the time including the Hillbilly Hundred, the Johnny Appleseed Classic, the Pittsburgher 200, the World 100 and Speedweeks at Volusia County Speedway in Barberville, Florida.
Erv retired from racing in 1975. He continued to have a personal interest in the sport watching sons-in-law Larry Lamay (former late model champion) and Dave DeSmith (former street stock champion) compete at the MCRT. He also enjoyed attending the annual NASCAR races at the Michigan and Daytona International Speedways with his dog Sammy and countless friends and relatives. Erv passed away at the age of 61 on June 14, 1988.