Wally Sanders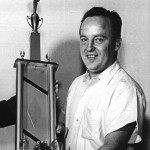 Wally Sanders, from Grand Rapids, started his driving career in 1948 at Whiskey Ridge Speedway near Muskegon. He later became a member of two different, yet successful teams in Western Michigan. In the early 1950's he was teammate to Tommy Lane in Erv Finkler's modified stock cars. Then in the late 1950's he hooked up with Jerry Rose and became Gordy VanderLaan's teammate. Both Lane and VanderLaan are already members of the Michigan Motor Sports Hall of Fame.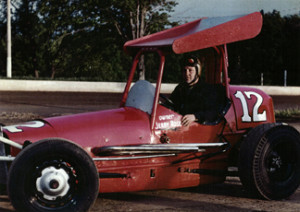 One of Wally's biggest wins came in a Monza-style 150 lapper at Berlin. Wally, driving Rose's #12 won the first 50-lap segment. He also won the second segment, but was disqualified as his car had lost a left front wheel after cutting the second corner a little too tight. The tire hit the inside banking and tore it off the car. He kept running, because the car was set up like a midget and he had kept that wheel off the ground most of the race anyway. Before the last 50-lap segment of the race they had enough time to repair the car. Wally came back to win the final 50-lapper and he received the $2,000 for the overall win plus a big trophy.
Another big win was a 200-lapper at the Grand Rapids Speedrome. He was driving the second car for Erv Finkler that day. Erv had paid more attention to the primary car driven by Tommy Lane, but when Lane's car blew an engine while leading, Wally just kept tooling along and after a while Wally pulled in for a drink of water They said, "OK, but hurry up out there, you're in the lead". So unbeknownst to Wally, he had the lead and went on to win.
Wally won the prestigious Drewry's trophy for winning the most features (6) at Berlin in 1962 driving Rose's red #12. He won a number of season championship races at both Berlin and the Speedrome. He won well over 100 features in his career. He was a conservative driver, not trying to drive over his head or beyond his equipment's ability. He hung up the helmet in the mid-1960Õs. His car owner Rose had vacation trailers up at Hardy Dam, and the crew and Wally and his family would go up there to fish. One weekend they all decided to go to Canada to fish instead of racing their supermodified. Little by little fielding a super modified lost its appeal and the team disbanded. Also the fatalities of Glen Rocky and Dick Carter at Berlin also played a big part in Wally's decision to quit.
Wally Sanders is retired and lives in Spring Lake with his wife Judy. They have three grown children. Craig, Mark and Vicky. He still attends the races at Berlin. He can be found almost ever race night setting high up in the fourth turn bleachers with his family.