Bob Hanes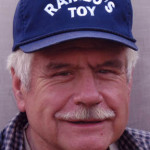 Bob Hanes from Clinton County, was born in Roanoke, VA in 1937, and has lived in Michigan since the age of six. He has participated in various motor sports beginning with drag racing, then moving on to figure 8, oval track, and onto Mud Drag Racing, which is still his current passion.
He was one of the charter members of the Pandragger Association in 1951 when he owned a '34 Ford Model A hot rod.
Bob began drag racing in 1953 and continued until 1955, but did not get a chance to resume racing again until 1959, due to four years of service in the US Marines. He was one of the first in the Lansing area to build a rail frame dragster.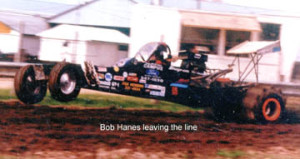 With a roomful of trophies and a reputation of going fast, but with little financial backing, Bob next ventured into Figure 8 racing at Spartan Speedway in 1966. He then left the drag racing to his younger brother, 1995 Hall of Fame Inductee, 1973 NHRA World Super Stock champion, Bill Hanes.
Bob began his oval track career in 1968. He won features at Owosso, Spartan, Dixie, Crystal, Mt. Pleasant, and Merritt Speedways. Bob earned a Mount Pleasant Speedway season championship in 1973. Bob, ever resourceful on a limited budget, regularly won against cars with 10 times more money invested.
"Watching Bob Hanes race with so very few dollars invested," said veteran driver Ed Damer, "makes you wonder what the guy could do with a good sponsor backing him."
By the early 1980's, when Late Model investments had climbed to ever larger amounts, Bob Hanes closed the book on another racing chapter. "When a form of racing gets too expensive, we move on to something else, said Bob." He then looked to the direction of Mud Bog Drag racing.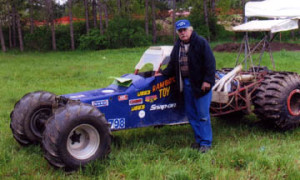 Bob debuted a 2-wheel drive mud-bogging dragster in 1989 called "Rambo's Toy", as the former Marine's nickname is Rambo. In 1993, Bob's son David joined the team. It was at this point when a 4-wheel drive version of Rambo's Toy was engineered and built. It is four-wheel driven with a 427 cubic inch engine nestled behind the driver's compartment. Bob's partner, Robert Walker, helped with the construction. The 427 receives help from an instant horsepower Nitrous Oxide system. In 1994, Bob set a Michigan State Record for the standard mud pit distance of 150' at 2.03 seconds, which stood for ten years.
He also set the state record that year for the cut-tire class in Harrison, MI. In 1996, Bob won 31 of 33 races entered, taking 2nd in the other two! Bob was the 1997 Michigan Mud Racing Champion. From 1998 through 2002, Bob won all four Mud classes in Michigan sanctioned with the Concerned Mud Racers Association. From 2003 through 2005, Bob Hanes won the non-supercharged 4-wheel drive class. In 2006, Bob's son-in-law, Mark Schumacher joined the team and is Bob's driver for the 4wd class. With Bob's "old school" and Mark's "new school" approach, they have Bob's 4wd-modified car running faster than ever before, and this teamwork shows great promise for many seasons to come.