Kevin Helms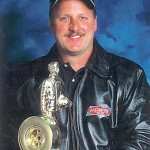 Three-time NHRA World Champion, Stock and Super/Stock Drag Racer Kevin Helms, was born in Pontiac, MI in 1965. He graduated from Lakeland High School, Milford, MI (Go Eagles!) in 1983, and then attended Eastern Michigan University. He also attended Spartan Aeronautical School where he earned FAA certification as a certified A&P technician, eventually working for Continental Airlines for a number of years.
Kevin began bracket racing locally at Detroit Dragway in 1981 at the age of 16. Within a few years, he advanced to racing in Stock Eliminator at the NHRA Divisional and National levels. His first important win came at an NHRA Division #5 WDRS race in 1990 at Denver, CO. By 1994, Helms won the NHRA Division #5 Season Point championship in Stock Eliminator, and finished seventh in NHRA World Points. In 1996, he nearly repeated the Division #5 title once again with a seasonal runner-up finish, and he placed third in NHRA World Points. 1996 was also the year that Kevin won the first of his 26 National Events to date, and in that first national event year of 1996, he won not just one, but three!!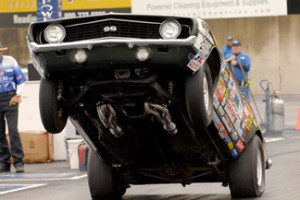 A run-down of major accomplishments will illustrate the stellar success that Kevin Helms has had in his career to date.
He won back-to-back NHRA U.S. Nationals (Indy) Stock Eliminator championships, 1998 and 1999.
In 2001, Helms left all regular employment behind and declared himself a full-time Professional Sportsman racer, joining that relatively small group of racers to have ever done so.
It was a gamble that paid off, for at season's end, Kevin had won the 2001 NHRA Stock World Championship.
"But it got better" for Kevin Helms, as he repeated that same feat in 2002, and 2003, the first Stock class racer in NHRA history to capture three World Championships-in-a-row, and the only one since! In addition to his three NHRA World Championships, Helms also scored an IHRA World Championship Runner-up in the Super/Stock category in 2006.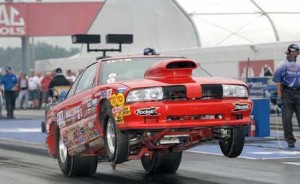 Won the prestigious Car Craft Magazine Stock Driver of the Year Award in 2001, which has for many years been one of the truly coveted honors in Drag Racing.
He has won 20 NHRA National Events, and 6 IHRA National Events.
Seven-time NHRA Divisional Champion in Stock, with four titles in Division #5, and two in Division #4, and one in Division #2 in 2009. In addition to his Divisional Stock championships, he also won the 2004 IHRA Division #4 Championship in Super/Stock.
All of Kevin's Stock titles and accomplishments over the years have been won with his venerable 1969 396-375 hp 4-speed Camaro, which currently runs in A/Stock. His Super/Stock car is a 1995 Olds Achieva which runs in the SS/BM and SS/CM classes with a small block Chevrolet for power.
As Kevin continues with his racing career, he has added even more to his remarkable resume. He is now also serving in a Racer Management capacity for Joe & Jeff Tueton's Southland Truck Group/ Southland Dodge, Houma, LA.