Ron Hemelgarn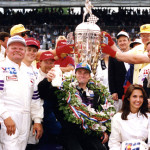 Born in Dayton, OH in 1947, Ron Hemelgarn is a successful entrepreneur in the fitness and financial industry. From an early age, Hemelgarn has endeavored with strong work ethics and a positive attitude, inspiring those who work with him to do the same.
In 1972, Ron rescued three financially troubled health clubs in Toledo, OH. Under his ownership and keen management skills, each club was financially sound within 18 months. Today Ron owns and operates health and fitness facilities throughout the world. The need to promote his clubs, as well as health and fitness, combined with a love of racing that once drove him to hitchhike from his home in Dayton to the Indy 500, led to his Indy car involvement.
At the 1978 Indianapolis 500, Ron began his role as a sponsor but eventually felt the need for more control over the racing operations. In 1984, Ron purchased the Primus Team, whose driver was Chris Kneifel. Team manager Lee Kunzman was also part of the original primus group. Employing the best drivers available, Hemelgarn, Kunzman and engineer Ron dawes have guided the team through many successful years at the Indianapolis 500. Boasting one of the most impressive long-standing crews on the circuit, Hemelgarn Racing enters the 2002 season for its seventh year of competition in the Indy Racing League.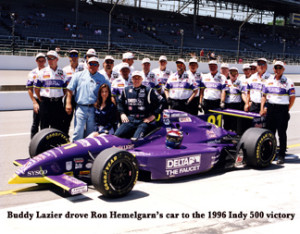 During the 1996 season, Hemelgarn team with driver Buddy Lazier captured the first-ever Indy Racing League pole position at the inaugural race at Walt Disney World Speedway. In May 1996, Hemelgarn added another success story to his resume by winning one of motorsports most coveted prizes, the Indianapolis 500. success continued in 1997 for Hemelgarn when Lazier posted a victory at the inaugural Charlotte event and finished eighth in the year-end point standings. Season's end point standings remained consistent in 1998 and 1999 with fifth and seventh place rankings, respectively. After two victories and six top-five finishes during the 2000 season, Hemelgarn and Lazier were crowned the 2000 Indy Racing League champions. The dynamic duo of Hemelgarn and Lazier fought for back-to-back Titles in 2001, winning a series record four races and posting seven top-five and eight top-ten finishes. Their impressive year resulted in a solid second-place finish in the series point standings.
The 2002 season was a buy one for Hemelgarn, as he teamed up with USAC Silver Crown owner Roger Johnson to embark on a new journey, fielding two entries in newly formed developmental series, the Indy Racing Infiniti Pro Series. Drivers Cory Witherill and Aaron Fike both recorded a victory and several top fives to finish fourth and fifth, respectively, in the final points standings. Meanwhile in IRL, Lazier finishing a respectable eighth place in the points standings.
Ron has been a resident of Michigan for about a dozen years. His natural leadership ability and positive attitude are the keys to his on-going success story, proving that these qualities will make any dream become reality. As Kevin continues with his racing career, he has added even more to his remarkable resume. He is now also serving in a Racer Management capacity for Joe & Jeff Tueton's Southland Truck Group/ Southland Dodge, Houma, LA.