Ernest Beckman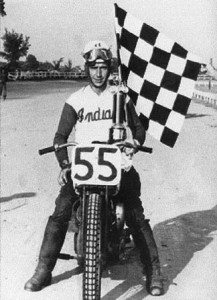 Ernest "Ernie" Beckman was born on May 31, 1923 and raised in Battle Creek, Michigan. He started out riding a Harley Davidson Motor Cycle in competition in 1946 after serving our country in World War II.
After a season or two Ernie switched to riding Indian Motorcycles in competition at many race tracks around the country, which he won many times. He turned pro in 1949. In Michigan he was the State Champion for five years. He not only was our Michigan State Champion, he was also the National Champion winning numerous races across the United States.
Ernie was known to the the last rider of an Indian Motorcycle to win.
Ernie won three AMA National Championship races at various places including three straight at Williams Grove Speedway in Pennsylvania on August 5, 1951, as well as 1952, and his final AMA National win on August 2, 1953. His streak was ended in 1954 by Charles Casey. Beckman finished second. From 1949 thru 1957 he finished in the top 10 every race except six times.
There have been many posters and his co-riders in competition on Indian Motorcycles. They were given the title, "The Wrecking Crew". His teammates were Bobby Hill and Bill Tuman.
Ernie raced motorcycles for 11 years, retiring after the 1957 season. He owned his own motorcycle shop in Battle Creek before taking a position with Lincoln-Mercury building prototype cars that were shown at auto shows across the country.
Ernie was living in Clark Forks, Idaho until his death in 1999 (1923 - 1999)