Gene Henderson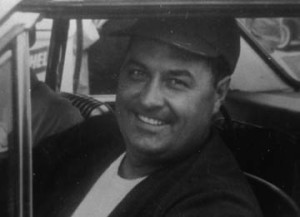 Gene Henderson, of Pinckney, first began auto racing in 1958 as a means of improving his driving skills, for he spent his working life as a member of the Dearborn Police Dept. Gene commandeered the family Volvo and went racing at Waterford Hills Race Track.
Road Racing never stopped for Gene, but soon he found himself entered in Rally Racing, much more popular in Europe than the U. S., and soon to evolve into PRO Rally Racing in the U.S. therefore, it was road racing in the summer months and rally racing in the winter months. As you can see, he was hooked!
The past 31 years have seen Gene compete in Europe, North America, Mexico, and Puerto Rico. Gene has driven over 60,000 stage miles in rally racing, without a single injury, except when he dropped the hood on his co- driver's thumb.
In 1959, Gene entered the first Press On Regardless PRO Rally. From there he placed 5th overall in the 1961 Shell TransCanadian Rally driving for Mercedes Benz in a 220E. 1962 saw him receive an "Official Factory Rally Car from Volvo, a 1225 for racing and rallying. In 1963 Gene won the Press On Regardless Pro-Rally in a "Factory Sponsored Chrysler 300". In 1964 Gene placed 5th in class in the Monte Carlo rally for Chrysler.
Road Racing in 1967 was a very successful year, with Gene winning 10 of 12 national SCCA races in a PHD Lotus Cortina. Gene also entered Trans Am racing that year. Again, Gene won the Press On Regardless PRO Rally in the Lotus.
In 1968, Gene won the Shell 4000 TransCanada Rally in the large V-8 class in a Barracuda 340S. In 1969, Gene appeared in TV commercials for Goodyear Tire Co. and Leonard Oil.
1972 could arguably have been the best year of Gene's rally road racing career, for he achieved several firsts. Gene won the FIA World Championship event Press On Regardless Rally in a Jeep Wagoneer, which was the first American Car to win a VIA World Championship Rally, with Gene as the first American driver, and the first time a 4WD car was so honored. (4WD is common place in the winners circle today and has been further refined for use in family sedans.)
To top off his successful racing and rallying, Gene was named "Michigan Road Racer of the Year" by the Michigan Auto Racing Fan Club.
Gene has organized dozens of rallies, worked as a driving instructor for racing and rallying, and fielded teams for Mercedes Benz, Volvo, Chrysler (including Valiants, Chrysler 300s, Simcas, and Rootes Sunbeam Tiger) with factory sponsorship, and driven for American Motors, Yugo, Subaru of America, BMW North America and Ford Motor Go!
While recuperating from Open Heart Surgery, Gene demanded that his doctor release him to compete in the one Lap of America in 1986. His team finished 3rd overall. That year Gene also entered and won the Alcan 5000 endurance rally for Subaru.
Gene currently owns and operates Competition Limited, which is the oldest and largest supplier of rally equipment in the U.S. Thru his company; he has prepared dozens of cars for competitors for every type of event imaginable.
Gene has always enjoyed the complete support of his family in his racing activities.
His two sons have also participated in racing PRO Rally and rally racing, with Gene's encouragement. It has been a true family sport. Gene died in 2005.
Gene was inducted into the SCCA Hall of Fame in 2012.