Jim Hettinger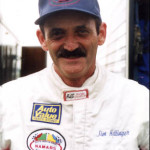 Jim Hettinger is a soft-spoken, 46-year-old resident of Mason, Michigan and has found success in the National Midget Ranks. Hettinger has campaigned a highly successful open-wheel team, winning the ARCA-WWAR Midget Championships in 1984 and 1990. He has become widely respected throughout the United States Auto Club.
Speed and competition are certainly not new to Hettinger, who started his racing career in Quarter Midgets at age eight and won the Eastern Quarter Midget Championship. Moving up to professional ranks in 1972, he competed in both AMRA and CORA, won seven total feature events, and became AMRA Rookie of the Year, finishing 4th in overall points. Although Jim is sometimes referred to as a "pavement specialist", he's no stranger to dirt, having won half of his first 60 wins on the dirt.
The next three years saw Jim race with the East Coast based ARDC group. His most successful season with them was in 1975 when he finished 2nd in final points after winning seven features, including the "Patriot '76 Race".
Between 1976 and 1979 Jim ran USAC Sprints and Midgets on a part-time basis.
From 1980 through 1983, Jim ran WWAR and finished a 2nd, 4th, 7th, and a 10th in final points during that period.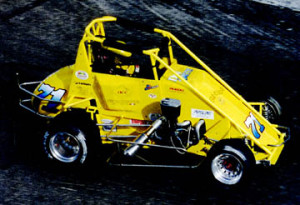 1984 proved to be one of Jim's most successful seasons as he claimed his first WWAR championship after winning seven times and was also crowned the NAMAR champion along with titles at Grundy County Speedway and Anderson Speedway.
He finished 2nd in WWAR points in 1987 after winning twice the year before.
He finished 4th in WWAR points in 1988 as well as finishing 3rd in AAMS points. He captured nine features in 1988 and claimed the "Outstanding Performance Award". He finished 2nd in WWAR points in 1989.
He once again topped the competition in 1990 as the ARCA/WWAR Champion. He had the most victories; most laps lead, as well as two USAC feature wins. The next year, one of his four wins was a USAC victory. 1992 saw him win two ARCA midget races.
He won one of the USAC-sanctioned, ESPN-covered races at Indianapolis Raceway Park in 1993. He finished in the top 5 in four of the TV events and won one other feature. He set a new track record at Louisville and finished 10th overall in USAC car owner points.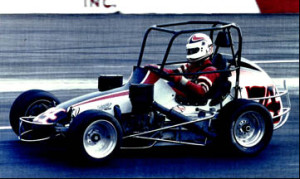 1994 saw Jim win the Tenth annual Hoosier Dome Invitational. He received injuries on Memorial Day weekend and sat out most of the 1994 season, but came back to claim the victory at Owosso Speedway in his first race after the injuries.
In 1995 he had 10 top-5 finishes and one 2nd place finish in ARCA events.
The next year he set one track record, and had six top five finishes in 11 feature events. He also had three more top-10 finishes.
In 1997, Jim had eight feature wins; three 2nd-place finishes; one 3rd-place finish; and one 5th place finish in 16 attempts. He finished fourth overall in the NAMARS Auto Value Midgets Series final points, having only competing in 62.5% of their total races. He had seven quick time awards in 13 races. One of his wins was the Bob Lockhart Memorial Race, held at Grundy County Speedway. He also received the "Goodwill Ambassador Award".
Jim Hettinger is regarded as one of the best open-wheel drivers in the country. At the end of the 1997 season he had 126 career feature event wins, including a record setting 37 in the ARCA/WWAR sanction. He is also their number one all-time pole position leader.
Jim died March 23, 2018. (1950 - 2018)