Bob Holley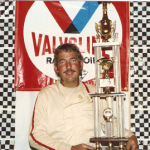 Bob Holley's interest in racing began when he went to B & K Speedway, Kalamazoo, with his family in the late 1960's and early 1970's. He began his racing career in 1976 in the Sportsman Division at the local tracks of Kalamazoo, Hartford and Berlin. In '77 he was the winner of the Hoosier Showdown at Hartford. Along with several feature wins Bob was the Sportsman Track Champion at Berlin in '77 and at both Berlin and Kalamazoo in '78, driving for car owner, Paul Fitzpatrick.
Bob took a break from racing in the early 1980's and returned in '88 to drive for two years in the Late Model Division for car owner Bill Myslewiec , adding several top ten finishes at Berlin to his resume. In '90 he was the winner of the first annual S.C. Nationals at Angola Speedway, IN. and he also won the Late Model Championship at Kalamazoo once again driving for car owner Paul Fitzpatrick. In '93 Bob accepted a ride offered by car owner Bill Ponstein with the car and equipment still housed at Paul Fitzpatricks garage. The '93 season ended with a second Late Model Track Championship at Kalamazoo.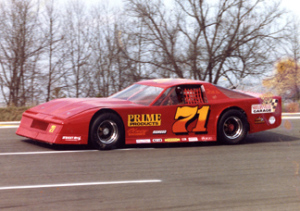 1994 thru '96 Bob had several feature wins at Berlin. He was crowned Late Model Champion at Berlin three years in a row…'96, '97, and '98 with the crew of Larry McKibben, Steve Laws, Butch Glass, and Dean Rantz.
Holley's most memorable race happened at the Kalamazoo Speedway. "I won the Kalamazoo Klash, which paid us $15,000. The funny thing about it was that we ran Berlin Raceway all that season, and when we ran the Kalamazoo Klash, we had to set the car up all different for that one race." He stated, "The race was run in two separate 100-lap segments, and we took the lead at about lap 60 of the first segment and won that segment, and then led the second 100-lapper for the overall win. It rained that evening, and we had to wait until the next night to finish the Klash. The car was handling just awesome for me. I had to give credit to Larry McKissen, and my car owner, Bill Ponstein, and my crew for setting the car up for me."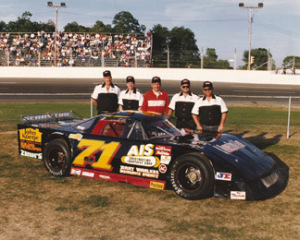 Throughout his career Bob accumulated over 100 feature wins and 8 track championships. In '02 and '03 he finished his racing career driving for Port City Racing at Berlin and Kalamazoo.
Other special events that Bob participated in were the IceMan Series and ARTGO Series. He also enjoyed racing at Columbus, OH , Fort Wayne, IN, Angola, IN, Jennerstown, PA, LaCrosse, WI, Owosso, MI, and New Smyrna, FL.
Bob was born November 29, 1953, has lived in Michigan all his life, has two children Amy and Jacob.
Track Championships:
1977, 1978, Berlin Sportsman
1978, Kalamazoo Sportsman
1990, 1993, Kalamazoo Late Model
1996, 1997, 1998 Berlin Late Model
Career Highlights:
1977 Mid Season Championship - Hartford
1978 Midwest Invitational , Spring Championship - Berlin
1978 Mid Season Championship - Kalamazoo
1992 Michigan Chevy Challenge, Good GMC,
Mid-Season Championship - Kalamazoo
1993 Mid Season Championship – Kalamazoo
1995 Mid Season Championship – Berlin
1997 The 47th Anniversary Celebration - Berlin