Ed Howe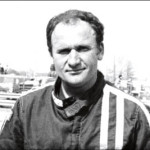 Ed Howe from Beaverton, Michigan is one of this country's most respected short track auto racing personalities. Howe started racing about 1960 and ran stocks and super modifieds throughout the state in the early 60's before switching to the semi late models where he came into his own.
By the mid 1960's Howe was winning frequently throughout the state. In the 1968 Howe began painting his cars green as a protest to the drivers who were superstitious. He picked up the nickname "Green Hornet" and for the most part has had cars painted green ever since. Howe has not been one to have the same number year after year, but rather changes regularly. Perhaps Howe's most famous cars were the green Camaros numbered GOING and GONE that he built in 1973. In 1974 he was highly successful in campaigning an AMC javelin. Howe has recorded over 200 feature wins.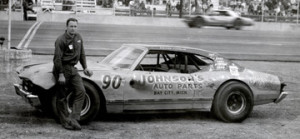 Some of Howe's major wins include the 1969 U.S. Late Model Championship at Tri County Speedway in Ohio and the final "Pittsburgher 250" at Heidelberg Raceway in Pennsylvania in 1973. He has also won the Michigan State Championship at Berlin Raceway many times. He is the only four-time winner of the Florida State Championship (1972, 1974, 1975 & 1976). And in 1972 Howe won both the Alabama State title and the prestigious Snowball Derby at Five Flags Speedway in Florida.
Howe is a rare driver as he adapts well to either pavement or dirt surfaces. He is a many time winner of the annual "Mudslinger" at Auto City Speedway as well as being one of the winniest drivers on the MSPA trail. But his wins like the "NASCAR 300" at the Minnesota State Fairgrounds in 1977 has brought him nationwide acclaim. Yet Ed Howe is actually best known for the competitive and durable stock cars he builds and sells. Ed formed Howe Racing Enterprises in the early 1970's and was a pioneer in building kit car style short track late model chassis. He is one of the foremost chassis builders in the country. Ed's reputation for building sturdy, fast cars, and his true concern for safety has helped to make his cars some of the most dependable available.

In the past few years Howe has cut back on his driving and has turned over the driving chore to his son Chas, but he occasionally still can be found behind the wheel. In past years he was best known for having some of the best drivers in the business as his factory driver. Drivers like Tom Maier, Bob Senneker, Mike Eddy, Larry Moore and Rodney Combs have won numerous major races as well as championships running the HRE factory car.
Ed Howe is truly one of the nations most successful short track late model racers and is indeed a legend in Michigan auto racing.