Jay Howell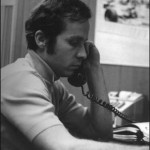 Jay Howell was born in Detroit, MI in 1942. After his parents untimely deaths when Jay was still a youngster, he and older brother Jim were raised by his paternal grandparents in Huntington Woods, MI. In 1958 at age 16, Jay obtained his first car, a '56 Ford, in which he spent many nights and weekends cruising Detroit's legendary Woodward Ave. Jay's introduction to serious championship-level Drag Racing was a result of his brother Jim, who was driving Pete Seaton's fabled 1960 Super Stock Pontiac. By 1961, Pete Seaton had put Jay behind the wheel of his Corvette. In 1962, Jay was hired by Fischer Buick in Birmingham as a mechanic. Impressed with Jay, Carl Fischer put him in a new D/Stock class Buick Special, in which Jay had some early success. In 1963, the car was converted in to run in the C/Gas class with a supercharged engine, where it earned the titled in the racing media as the "World's Fastest Compact". By 1964, Jay raced a home-built 1500#, 1923 Ford Roadster in the BB/Alerted class. He won many middle eliminator titles at both Detroit and Motor City Dragways.
In the fall of 1964, Dick Branstner, who with Roger Lindamood, was of the "Color Me Gone" Dodge Super Stock fame, hired Jay as the shop foreman of Dick Branstner Enterprises of Troy, MI. He was then assigned the driving and development of the famed and legendary exhibition wheel-standing Dodge truck, the "Little Red Wagon", later campaigned by Bill "Maverick" Golden. The following year Jay designed and built the "Dodge Charger", a mid-engine Dodge Dart powered by a nitro-burning 426 Hemi. The Dart won many match races across the Midwest, and set a low e.t. and top speed at the 1965 U.S. NHRA Nationals at Indianapolis @ 9.02 seconds and 164 mph.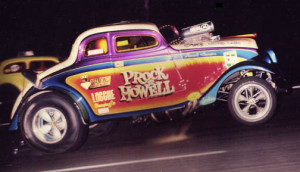 During the NASCAR "Hemi-ban" of the mid-sixties, Jay engineered and built many famous cars at Dick Branstner's shop for oval track racers who had gone Drag Racing for a while. Among these was the famed "Cotton Picker" for Cotton Owens, which was driven by David Pearson.
In late 1965, Jay opened his own facility in Oak Park, MI, called Automotive Engineering. He began building race cars for both amateur and professional drag racers. Later, he moved to larger quarters in Madison Heights, MI. During that time he built cars that are of Drag Racing history and legend. Pete Seaton (Seaton's Shaker), Wild Bill Schrewsbury (LA Dart), Jack Schaeffer of Honesdale, PA., Don Gay Sr. ( Gay Pontiac, Houston, TX.), Ramchargers, Roger Lindamood's "Color Me Gone", and numerous others. Jay was the first to break the 180 mph mark in a funny car driving Pete Seaton's Corvair-bodied car at Detroit Dragway. In late 1968, Jay sold Automotive Engineering to Ron & Gene Logghe who were friends and fellow racers. Jay was then appointed General Manager of Logghe Stamping Co., Competition Products Division. He then refined, expanded and streamlined many aspects of the business.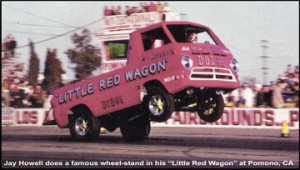 In 1968 Jay designed and built a revolutionary 1933 Willys 426 Hemi nitro-burning supercharged coupe, utilizing a modified funny car tubular chassis. With driver and partner Tom Prock, this low 8 second, 185 mph car, dominated the outlaw circuit throughout 1969. The car was extremely popular, and was featured in many magazines, including Hot Rod and Car Craft. In 1970, Jay was involved in the building and driving the Logghe "Warhorse" Mustang Funny Car, with which he won all three days of the Grand Nationals at Detroit Dragway. That same year, Don "The Snake" Prudhomme hired Jay to drive his Mattel Toys-sponsored funny car at the U.S. Nationals, in which he was one of the first drivers to break into the 6-second zone at a national event. At the end of the 1970 season, after finishing fourth in the nation in the AHRA series.
Jay retired from active racing, left his position at the Logghe Bros., and accepted a position with the fabled Ramchargers Racing Engines. He had suggested to them to diversify into the speed shop business, and they designated Jay to launch them into that venture. In recent years, his Willys Coupe was discovered in a Wisconsin flea market, after which it was meticulously restored by Dan Hix of Lawrence, KS. It now resides in Belleville, MI with new owner Steve Timoszyk. In 2005, Jay was a featured guest at the NHRA Hot Rod Reunion in Bowling Green, KY. After 35 years, he was reunited with the '33 Willys, and had the pleasure of driving the car in the festivities parade. Driver, mechanic, chassis and engine builder, designer and visionary, Jay Howell did it all. Now retiring from a career as a financial planner in Arlington, TX, he plans to move aboard his boat and sail the world.