Roger Huntington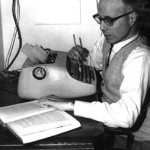 Roger Huntington originally from Flint, was a self taught automotive journalist. He wrote eight books on automotive engineering and for at least 10 automotive magazines during his 51-year writing career.
In 1941, at age 15, a swimming accident left him paralyzed from the chest down.
His first article, published in 1948, was the story of the development on aircraft engines during World War II, was published by a aviation magazine. Roger wrote articles by pecking the keyboard of his electric typewriter with a pencil.
Roger had a deep love for auto racing and many of his articles dealt with high performance and racing. Some of the magazines he wrote technical articles for included Auto Car, Motor Trend, Car Life, Road & Track, Car & Driver and Hot Rod Magazine to just to name a few. One of his regular columns appeared for over 15 years in Speed & Custom Dealer.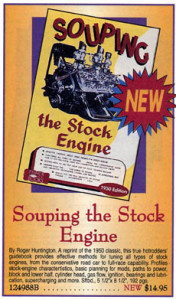 He enjoyed attending auto races at places like Onondaga, Stanton and Detroit. In an era when quadriplegics for most part stayed in their wheelchairs, Roger operated his car with hand controls. He also enjoyed the Indianapolis 500 and wrote numerous articles and at least one book on the 500.
On May 19, 1981 a testimonial dinner was held in his behalf in Dearborn. Many of the country's top automotive publishing representatives were in attendance. During the dinner Ken Zeno, editor of Motor Magazine said, "Roger Huntington is remarkable when it comes to explaining complicated matters in simple terms".
He was a member of the Society of Automotive Engineers. He was considered the dean of automotive technical writers.
Roger Huntington died August 24, 1989 at the age of 63.