Dick Beebe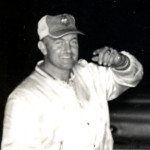 Dick was born January 26, 1933 in Kalamazoo, Michigan. His entire life has been spent in and around racing. It can be said that racing WAS his life.
Dick's involvement in racing began before he even started school. He started as a "gopher" for parts on his father's motorcycle race team. Over the years, Dick became his father's (Paul J. Beebe, Sr.) right-hand man, helping his father to construct or rebuild several race tracks around the country, as well as promoting and officiating at these tracks. Some of the tracks he helped to construct are Galesburg Speedway and the Grand Rapids Speedrome; and Pharr, McEllen, Harlingen and San Benito in Texas.
Dick began lettering race cars at Galesburg Speedway when he was 12 years old. The Beebe Sign business is still flourishing today. His eldest son, Rick, is now a partner in that venture.
Dick started flagging races at the age of 14. He is probably the youngest official starter NASCAR has ever had, officiating in that capacity during his first year of flagging. His three sons, Rick, Tim, and Ted also started flagging at 14 years of age.
When he wasn't working around race tracks - grading, building, working in the concession stands, or on the flag stand - Dick was trying his hand at racing. During motorcycle racing days, Dick competed in the last road race for motorcycles held at Catalina Island, California in 1958. He started 122nd in the event and finished 10th in his class. Quite an accomplishment considering close to 900 machines competed in that event! He has also competed on snowmobiles (with several wins and top-ten finishes to his credit) and karts, as well as various divisions of auto racing.
Dick's love of racing prompted him, along with wife Pat, to start a weekly paper covering motor sports news in 1965. The MARC Times Racing News was a thriving business, with subscribers in all 50 states and 22 countries. Tim and Ted worked with their parents on the newspaper. Through the newspaper the Beebe family has donated thousands of dollars to families of dead or injured drivers.
Dick has always been a strong advocate for driver safety. In 1970 he formed the American Racing Congress, which established safety rules governing most of the tracks in the United States and Canada. Several of these rules are still used nationwide. He helped in the development of window nets for stock cars. Dick strongly advocates the development of better firesuits, roll cages, seatbelts, etc., and enforces the use of these safety factors at all race events he promotes.
Dick has served as an official for several organizations. Among those are NASCAR, USSA Sno-Pro snowmobile circuit, Superior Auto Racing, USAC, and CRA. He was president of the American Racing Congress for five years.
Obviously, Dick has served the racing public in every capacity - groundskeeper and builder, pit steward, announcer, starter, scoring and timing, track operator, promoter, reporter, and race participant. He continued to work for the betterment of racing in every aspect, as does the rest of the Beebe family. Dick must have been especially proud that the third generation continues the Beebe family tradition of involvement in motor sports.
Dick died on February 22, 2009 (1933 - 2009)