Harry Jones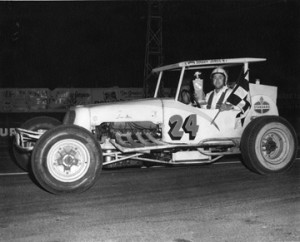 Harry Jones started racing in 1953 and retired in 1965, due to a shop accident in which he lost the sight of his left eye.
Some of the Michigan tracks he raced at were Hastings, Galesburg, Spartan, Kalamazoo, Jackson, the Grand Rapids Speedrome, Flat Rock, Dixie and Motor City. In Indiana he raced at South Anthony. In Ohio he raced at Toledo, Lorain, and Sandusky. He also traveled to New York and ran at Oswego, Spencer, and Shangri-La. The Canadian tracks he raced at included Milestown, Delaware, and Flamboro.
In his racing career, Harry won over one-hundred features, with many of them taken at Galesburg. There he won the points championship in 1961 and 1962. He also won the points championship at Dixie in 1963.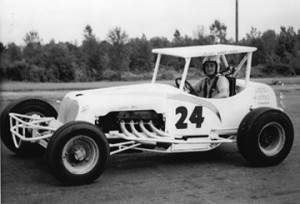 His most memorable race was at the Milestown track when his car own was disabled, so for the first time he sat in Max Dowker's (#7) car and set fast time and won the 100 lap feature.
Junior Newberry and Bert Cuyler were each one-time owners with Harry.
Harry was best known for his white #24 called the "Lone Merc".
Harry Jones lost his battle with cancer in May of 1998, after a nine year battle with the disease.