Roger Joneson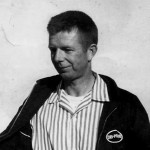 It's rare that you find anyone who has been connected with racing for close to 40 years, but that's how long Roger Joneson was either driving a race car or promoting a race track.
Beginning with the wild roadsters that sprung up following WWII Roger was among the top racers of that era. Racing against drivers such as Glen Rocky, Bill Wiltse, Dick Peoples, Joe Bisocky, and Tony Lane, Joneson once won 10 straight features at Whiskey Ridge.
Getting the traveling fever caused Joneson to join the IMCA circuit with his own Ranger powered Big car in the early 50's.
In the middle 50's, Roger cut back on his traveling and built his famous, 'Bucket of Bolts.' Roger himself drove the racer along with other racers such as Glen Rocky.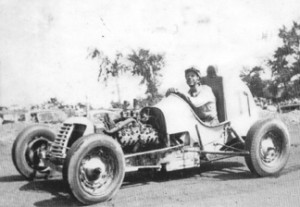 With over 100 features won in his career, Roger successfully competed at tracks such as Whiskey.Ridge, Berlin, Nunica, Grand Rapids Speedrome, Crystal, Saginaw, Owosso, Auto City, Jackson, Capital City, Caro, Saginaw, Hart, and Ionia Fairgrounds. While racing with IMCA, he raced in Iowa, Illinois, Wisconsin, and Missouri.
1961 found Roger Joneson becoming the promoter of Birchwood Speedway which he renamed Thunderbird Raceway. 1986 marked the 25th anniversary of the Joneson promotion at Thunderbird, making him, as one of the longest running promoters in the state.
It was in 1986 that the Michigan Speedway Promoters Association honored Roger Joneson with a plaque, naming him 'Promoter of the Year.'
Roger Joneson has been successful in two of racing's toughest areas, that of race driver and promoter.