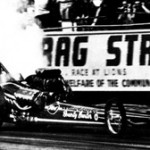 Connie Kalitta
Born on February 24, 1938, in New Baltimore, Michigan. Kalitta overcame the loss of eyesight in one eye from a childhood accident to become one of the nation's top drag racing stars. In addition he is rated as a commercial, instrument, multi-engine, Lear jet rated pilot.
1955 marked the beginning of Kalitta's career and he won his first race in Oswego, IL in a '51 Willys C Gas.
Drag News named him "Top 10 Driver of the Year" in 1960 and he remained on that list throughout most of the 1960's. Driving the "Bounty Hunter" gas dragster in 1961-2 he moved to the fuel dragster class in 1963.
By beating Don Garlits in the finals at the Smoker's Race in Bakersfield, California, Kalitta won his first National event. In 1964 he was the first to win the "Over 200 Award" driving 200.36 MPH on a quarter mile track in Indianapolis.
Three of the five national events went to Kalitta in 1967 as he won the NHRA Winter Nationals, AHRA Winter Nationals and the NASCAR Winter Nationals. No other driver has ever done this to date.
After being named "Drag Racer of the Year" by Car Craft magazine in 1967, Kalitta went on to win two more AHRA National events in '68. He continued racing until he crashed at Indy in 1971. The following three years he was the crew chief for Shirley Muldowney while she drove in Kalitta's car.
Kalitta began racing again in 1978 and won the IHRA Nationals in' 79, '80, and '81. In 1983 he won events including NHRA, followed by three national events in 1984 and ended the 1985 season with three national event wins and was #3 overall at the end of the NHRA season.
In 1986 Kalitta's ran all NHRA Dragster events and all IHRA Funny Car events as well.
He is retired from driving, but maintains his team. His nephew Doug Kalitta is the primary driver.
In addition to his busy racing schedule, he maintains an air transport business at Willow Run Airport.