Mickey Katlin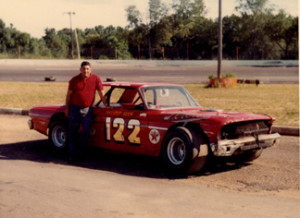 Mickey Katlin began racing at age 18. He retired in the early 70's. He was also a test driver at the Chrysler Proving Grounds. He drove late Models, supermodifieds, roadsters, super stocks, hard tops, everything but midgets, as he couldn't fit into them. Some of the owners over the years include the Okimoto Brothers (The Japs), Harry Sawallich, Strohs Brewery Team, Morgan.
He ran for various associations including the Michigan Modified Hardtop Racing Association (MMHRA); the Michigan Modified Stock Racing Association (MMSRA); NASCAR; and the Toledo All Stars. Mickey died December 7, 1990. RECORDS:
Flat Rock National Championship 1954, 1955, 1956, 1957
Flat Rock Elimination Championship 1955
NASCAR 1955, 1956
Motor City Speedway Championship 1955, 1956
Motor City Hard Top Championship 1955, 1956
NASCAR Michigan Hard Top ChampionshipI 1955, 1956
Michigan State Super Stock Championship 1966
Auto City Top V8 Qualifier 1965
Land Of Lakes Mid Season Championship
MMSRA Championship
Jackson Motor Speedway Championship
Owosso Speedway Championship
Dixie Speedway Championship
Auto City Speedway Championship
Point Championship at 12 different tracks in the same year
13 straight feature wins at the Jackson Fairgrounds
Toledo Motor Speedway Championship
Sandusky Motor Speedway Championship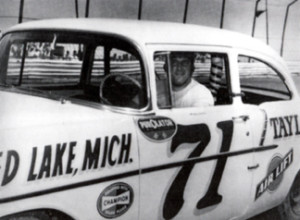 TRACKS COMPETED AT:
MICHIGAN: Auto City, Dixie, Hartford, Spartan, Pontiac-M59, Jackson Motor Speedway, Jackson Fairgrounds, Flat Rock, Motor City, Michigan State Fairgrounds, Mt. Clemens, Owosso, Auburn, Kalamazoo, Hastings, Capitol City (Lansing), Marne, Grand Rapids Speedrome, and many others.
OHIO: Sandusky, Columbus, Toledo, Toledo Raceway Park, Fremont, Old Miami
INDIANA: South Bend
FLORIDA: Daytona Beach (on beach)
TEXAS: Harlinger Speedway
CALIFORNIA: 2 tracks in 1959
CANADA: Tilbury, Delaware, 2 tracks at Toronto.