Iggy Katona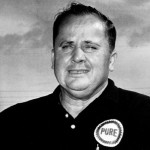 At the age of 19, in 1935, Iggy Katona entered his first motorcycle race. The two wheelers became his initial Conquest, as Katona captured the Michigan State Motorcycle championship within four years.
Prior to serving in WWII, Katona graduated to midget racing, a division he returned to upon completion of military service. Driving under AAA midget sanction, Katona became a threat to win any race he entered, posting numerous victories on tracks throughout Michigan such as Adrian, Saginaw, Monroe, and Detroit all dirt tracks, most of which are not operating anymore. It was in 1946 that Katona won his first race at the famed Motor City Speedway in Detroit, and Iggy would become the track's winningest driver in very short order.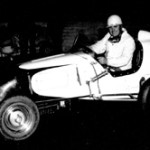 The late '40's and early '50's found Katona moving into the roadster division, racing modified type cars powered by V8 stock block engines. Katona found even more success in this division, notching some very impressive victories and records. It is his incredible 14 consecutive feature wins in 1950, at the Motor City Speedway, that Katona recalls as his greatest triumph in roadsters, although he won IMCA events and captured the Florida State Championship one season.
By 1953, Iggy was searching for a greater challenge with more opportunity to travel, race and earn better payoffs, his racing hobby having evolved into a profession. His open cock pit stock car racing transition often found him racing seven nights a week. He discovered a lifetime friend in John Marcum and the racing opportunity he sought in the pre ARCA Midwest Association for Race Cars. (MARC).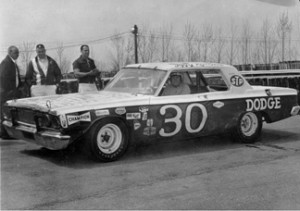 Katona's feats with MARC and ARCA are now legend. The former Lambertville, Milan, Willis and Lewison, Michigan resident racked up an unsurpassed six MARC-ARCA national championships-1955, 1956, 1957, 1962, 1966, 1967. He won the prestigious ARCA Daytona race in 1965, 1971 and 1974. Iggy Katona's record of back to back victories in the Michigan State Fair 250 mile event in 1961-62 and a third win in 1965 will never be equaled, as the State Fair mile dirt course is no longer operated for auto racing. Iggy also holds the distinction of being the only driver ever to win a 600-lap race on a half-mile oval (Dayton, Ohio).
Katona, always a great favorite of the race fan with his colorful name and longevity (the "Racing Grand Pappy"), drove winning car makes from Hudson to Ford, Olds, Chevrolet, Plymouth, and finished his career in 1975 behind the wheel of a Dodge. Always maintaining his own shop for his racecars mechanical needs. Katona's crew for his entire 40-year racing career consisted only of his family sons Ron and Jim and wife Eleanor, Iggy's race day scorer.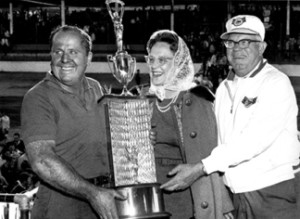 One of Iggy Katona's greatest triumphs came in 1974, when at the age of 57; he sat on the pole at Daytona in the ARCA 300 and won it at speeds in excess of 180 MPH.
Egnatius "Iggy" Katona was born on August 16, 1961 and died on December 4, 2003.