Keech, Ron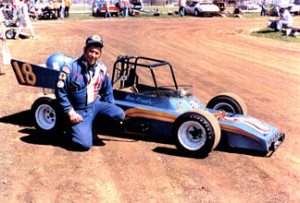 Ron Keech was a rare breed indeed. He succeeded in three different forms of motor sports. he not only succeeded, but he conquered all three.
The Plainwell, Michigan driver started in stock car racing in 1962. He won a number of races including 27 checkered flags in 1974. The next year he won the track championship at Kalamazoo Speedway.
Ron moved to the Mini-Champs and dominated that class. In 1978 he won the "A" Class championship and then he won it again and again. If fact he won the "A" Class championship each year from 1978 through 1983. Nobody has ever come close to duplicating his records in the Mini-Champs. He has won more feature races, set more fast times, and set more track records in this class of car than anyone else. Nobody has ever won three Mini-Champ Championships in a row, much less the six that he has won.
In 1978 and 1979 he managed a very rare double in motor sports. While wearing the Mini-Champ crown he also won the prestigious snowmobile race in Traverse City both years. The "TC 250" was lower Michigan's biggest snowmobile race, and he won the race two years in a row. In 1979 he took second overall in the triple crown of snowmobile racing.
Ron tried three forms of motor sports and beat the best. He is one of the most deserving individuals ever elected into the Hall of Fame.
Ron was born in 1941. He drowned while ice fishing in 1984.