Tom Kestenholtz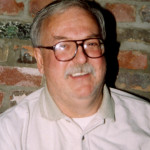 After many years of cheering race drivers and supporting auto racing from the grandstands, Tom Kestenholtz traded his grandstand seat at Lansing Speedway for the seat of his "Fabulous Hudson Hornet" stock car. It became the green flag for Tom to fulfill his life long dream to participate actively in motor sports, which he did while racing at the Lansing and Owosso tracks. His family was supportive of his love for auto racing, and soon joined in his enthusiasm for the sport. In 1962 they purchased Lansing Speedway and changed the name to Spartan Speedway. In addition to changing the name of the track, Tom and his family added a figure eight track in the infield. This innovation brought central Michigan it's first figure eight track. Tom welcomed and valued his figure eight racers, and promoted figure eight racing to the state championship level.
Tom created two unique race events, the "Hare and Hound" and "Butterfly" as well as the Michigan Figure 8 Championship. At a time when racing was rarely televised, both his Hare and Hound race, and Michigan's great figure 8 champ, Richard Simmons, were featured on ABC's Wide World of Sports. Tom always sought to attract the best race talent from around the state by offering attractive purses and running competitive race cards in all divisions. The regular attendance of talented drivers from around the state soon gave birth to the track's slogan: "The Track The Stars Call Home".
During the 60's, Tom worked just about every job at the track from sweeping and painting, to timing and scoring. He often joined Marvin and Joyce Church of Stader Timing Service as a timer, and was also a starter at several tracks in the state. One race night at Spartan, while filling in for his regular announcer, Tom found his true calling in motor sports. Around the close of Tom's career as owner/promoter of Spartan and Jackson Speedways, Jack Doering, owner/promoter of Flint's Auto City and Dixie Speedways, called Tom and asked him to help out by announcing for a few nights. Over twenty years, and thousands of races later, Tom's unique voice and passion for racing was still a signature at Jack's race facilities.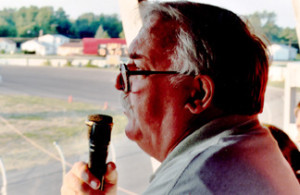 From the early 60's into the new millennium, Tom's voice has enhanced the racing experience for fans at over 50 racetracks throughout the Midwest. His voice has encouraged audiences to join in the excitement of events such as: monster truck; snowmobile; motorcycle; go-kart; and even mud-bog racing. If it had an engine, Tom could be heard calling the action! Tom has always sought to educate and include audiences in the action whether entertaining a half-dozen fans at the East Lansing Kart track, 30,000 at the Michigan State Fairgrounds, or 50,000 at the Pontiac Silverdome.
As Jack Doering closed out his own promoting career, Tom was presented with a new opportunity in the sport. His reputation as a knowledgeable, professional, and colorful announcer made him an excellent substitute for weekly announcers around the state who were unable to make their shows. During this time, Tom also announced charity benefit races and became the voice of the Midwest Classic Racer's Traveling Dwarf Car Series. Tom is currently the announcer for the Auto Value Sprint Car Series. Whether timing go-karts, promoting the sport in the media, or standing on the asphalt waving the green flag, Tom has first and foremost shown his love and respect for the drivers of our sport. As racing has evolved, so has Tom's vision for, and participation in the sport. As a founding member of the Michigan Speedway Promoter's Association, Tom has always shared his enthusiasm and ideas for the sport.
Tom was former board member of the Michigan Motor Sports Hall of Fame, and served as the MC at the annual Hall of Fame banquet for a number of years. Tom's unique ability to identify with fan and driver alike, makes him a passionate, knowledgeable, and entertaining part of Michigan's mot to identify with fan and driver alike, his variety of contributions and dedication to the sport and it's people, makes him a passionate, knowledgeable, and entertaining part of Michigan's motor sports scene.
Tom died June 22, 2014 (1942 - 20014)