Dave Kuhlman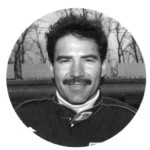 Dave's father Ward was told he needed a hobby to channel some of his thoughts and energy after heart bypass surgery in 1977. He then purchased an old street stock (67 Chevelle) to rebuild and race. Dave then got involved in rebuilding and eventually started hot lapping the car near season end. Interest was sparked from there on.
Dave Kuhlman's most memorable feat or cherished memory in career:
Passing Joy Fair on the outside at Flat Rock Speedway for feature win;
and winning Iceman championship in 1996.
Rookie of the Year Spartan 1979 - Sportsman
Flat Rock 1981 - Late Models
Track Championships: 1979 & 80 Spartan Speedway Sportsman
1983/86/87/88 Flat Rock Speedway Late Model
Series Championships: 1996 Iceman Championship
ARCA Gold Cup 2001/2003
Race Wins: Toledo Speedway 16 career wins
(2) Glass City 100 lap wins
(2) Gold Cup 100 lap wins
(3) Iceman 200 lap championship wins
Flat Rock Speedway 36 feature wins (2nd all-time)
(2) Gold Cup 150 lap wins
Fast Qualifier 31 weeks in a row (National Record)
Multiple winner of Howard Williams Memorial event
22 Iceman Series wins 8 wins at different tracks
Annual Mudslinger 150 at Auto City Speedway
Patty Simko Memorial at Owosso Speedway
Track Records: Flat Rock Speedway 30 laps 6:03.66 - 8/20/88
Series Records: Iceman Series - Career win leader
Career top 5 leader - 79
Career top 10 leader - 100
Career lap leader - 1,789 laps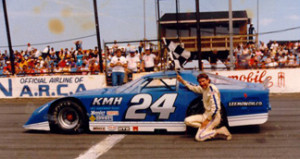 Names of racing partners: Kuhlman Family & Butch Giles. Spartan Speedway. The following year Dave entered the sportsman class and promptly won the title in his very first year of competition along with capturing the rookie of year crown. Dave proved the first year was no fluke as he went back-to-back winning his second title in as many years! It was during the first year of competition that Kuhlman created his familiar blue #24 that is so recognizable to fans and drivers alike. Dave was 24 years of age when he climbed behind the wheel so it was that simple and his age became his number.
At the end of the 1980 season Dave had nothing more to gain in the sportsman division and a new challenge beckoned. The ultra-fast late model division was the logical next step for the Kuhlman gang, so in 1981 they started making the weekly trek from Howell to the legendary 1/4 mile Flat Rock Speedway.It would be a long successful association with the track that continues to current day. The crew fashioned a Howe prototype and to no ones surprise, Dave, ever the quick study, went out and captured the Rookie of the Year title and a top five in points.
In 1982 Dave set his sights on two goals; feature wins and the track title. Dave nearly accomplishedboth as his first feature win was achieved and runner-up title run falling a mere 35 points shy. The following year, Dave wouldn't be denied as he captured his first of several titles at Flat Rock.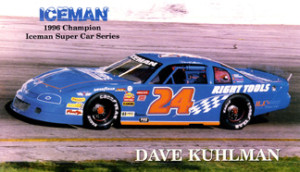 Dave was winning each season but it wasn't until 1986 that he hit his prime at Flat Rock whenhe logged 10 feature wins and a second title. Dave's dominance was not just in points and feature wins but he was top pole qualifier for 18 consecutive nights. If that wasn't impressive enough he continued that dominance right through the following year! All told it was a streak of 31 weeks, which was not only a track but perhaps a national record! Dave made a home on the second grove and used it to pass cars at will. It appeared as if his car was on rails running up near the wall and it propelled him to 3 straight titles!
With four Flat Rock championships and second behind Joy Fair on the all-time win list,Dave decided to try the traveling Iceman Series. The series home base was at the fast high-banked banked mile Toledo Speedway. It took a couple of years to get the handle at Toledo but once he got the set-up he was a favorite to win on any night. Throughout the 1990's the wins piled up not only at Toledo but all over as Dave become a well adept traveler winning Iceman shows at Berlin Raceway, MI., Tri-City Speedway, MI., Shady Bowl Speedway, OH., Mansfield Speedway, OH., Central PA. Speedway, Angola Speedway, IN., and Baer Field Raceway, IN.
The Iceman series is now defunct but Dave left his indelible mark winning the 1996title after several close runner-up finishes. He is the all-time leader in wins with 22 and also holds the most top 5 & 10's along with most laps led. During the 1990's and into the new millennium Dave has doubled timed driving an outlaw late model. The popular division runs primarily in Michigan, Indiana and Ohio and has landed Dave several big wins at Auto City Speedway in the annual Mudslinger 150 along with the Patty Simko Memorial at Owosso Speedway. His latest conquest has come in the ARCA Gold Cup Series, which runs at his old stomping grounds at Flat Rock and Toledo Speedways. Dave is a two-time series champion with several extra distance victories to his credit.
In addition to winning on the local ARCA scene, Dave's career racing resume includes competing in the Automobile Racing Club of America (ARCA RE/MAX), American Speed Association (ASA), All-Pro,and the Hooters Late Model Series. Dave's feature win record is impressive with close to 100 feature wins but it's his character that is impressive as well! Dave has a loyal fan following and his fellow competitors have always respected Dave for being a fair driver who races hard to win but never drives over his head nor uses his bumper to win a race. His driving style is patient, smooth and deliberate, but when it's time to get to the front, Dave Kuhlman doesn't waste time getting there as his impressive win record speaks for itself. Dave has shown no signs of slowing down and his goals are to continue to win races, with the prestigious annual Glass City 200 at Toledo Speedway being the ultimate goal.