Dick LaHaie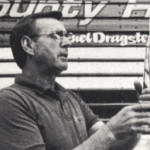 Dick LaHaie's drag racing career really began much like it did for many in the late 1950's, making his first run down a drag strip in a car that also provided everyday transportation. The site was Central Michigan Dragway (now called Mid-Michigan Motorplex). The year was 1958 and Dick was 16 years old.
The next few years saw the DeWitt native complete mostly in the now-extinct gas coupe category. In 1962 he got the opportunity to run the legendary supercharged fuel roadster called the "Glass Chariot: for the Canfield and Johnson team. By the late 1960's Dick had moved up to the U.D.R.A. top fuel circuit winning their points championship in 1970.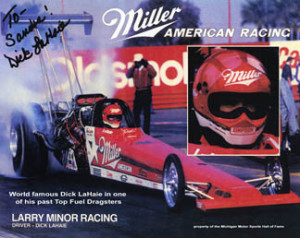 With limited sponsorship he ran as many of the N.H.R.A. National events with his top fuel dragster as possible. Dick won the N.H.R.A. Summernationals in 1980.
In 1982 his daughter Kim became his crew chief and along the Dick's son Jeff, the team won the Winternationals at Pomona in 1982, and the Gatornationals at Gainesville in 1985.
Team LaHaie obtained a long deserved sponsorship in 1987 when they joined the Larry Minor/Miller American Racing Team. Dick reached the pinnacle of a drag racer's career when he became the 1987 N.H.R.A. Top Fuel Dragster World Champion. He ran the Minor/Miller banner until their contract ended, and went back running his own operation, running non-sponsored until it became a business decision to "park the car".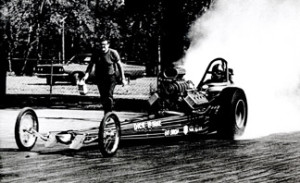 Then in 1993 he returned to the public eye as he became the crew chief for Scott Kalitta, who was driving his dad's (Connie Kalitta) top fuel car. On October 3, 1993, Scott won his first Top Fuel National event. Dick LaHaie was his crew chief. The speed on that run at Heartland Park in Topeka was the fastest 1/4 mile run from a standing start that was ever recorded in drag racing for a wheel-driven, piston-engined race car. The speed was a unbelievable 308.64 mph.