Jerry Landon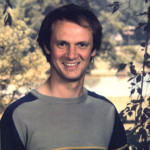 Jerry was born October 26, 1955 in Hastings, Michigan, the son of Wayne and Ruth Landon. He, in turn, had two sons, Nicholas, and Christopher.
When Jerry was nine years old, he built his first engine for a Volkswagen. It ran for sever years. That is when he got interested in engines and racing. From that time on, he spent most of his time in his father's machine shop. Jerry could operate any machine he came in contact with. It was all hand-on-experience. He also was an excellent welder.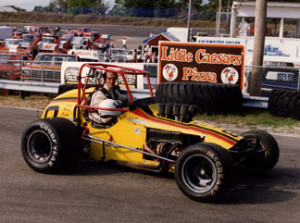 Jerry started racing go-karts in the early 70's. Then he built the first seven mini-champ frames for mace Thomas. A year later, he built his own mini-champ and started driving them. He won several features and preliminary races, was in the top 10 in points most every year he ran, winning the points in 1988. He was a favorite everywhere he raced. Jerry also raced snowmobiles, midgets, Zoo mods, late models, super-modifieds, and USAC sprints. The first time he drove the sprint was at Winchester and he finished fifth. In 1987, he ran the Little 500 at Anderson, Indiana. He qualified eighth out of 83 cars and finished seventh (with three broken shocks). That was only his third time in the car. Jerry has driven on over 50 tracks in Michigan, Ohio, Indiana, Illinois, Wisconsin and Canada. He has 83 trophies and plaques.
He didn't just race. He was always helping someone else, even if he was late for a race himself. He worked on engines for Tiny Lund's Grand National short track car. He helped design and work on a world-record holder snowmobile for several years. He worked on a Charlotte-Daytona Dash car at Daytona in 1987.
Jerry raced 18 of his 33 years, losing his life in a racing accident at Kalamazoo Speedway on May 1, 1989.
Jerry's son Nick presently races Sprint Cars.