Wayne Landon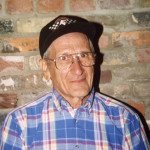 Wayne Landon began racing motorcycles in 1947 at age 16. He used to stand up on the seat and ride around the tracks or down the road. In 1953 he met and later married Ruth, who took him to his first race at the Hastings Track. The next week Wayne went back with his own stock Chevy '16 and has been racing cars ever since.
For the past 39 years Wayne has driven on over 50 different tracks in the US and Canada. He has over 300 feature wins to his credit and was Midwestern Champion in 1962, winning track titles at Lansing, Dixie, Owosso, and Grand Rapids Speedrome. He missed the South Bend, Indiana, title that year by a mere two points. He has held track championships at Lansing, 1960, 1961, 1962; Owosso, 1959, 1960, 1962; Dixie, 1960, 1961, 1962, 1963, Speedrome, 1960, 1961, 1962, 1963 and TRI STATE AUTO CLUB (TRI Sac) champion driver owner 1981.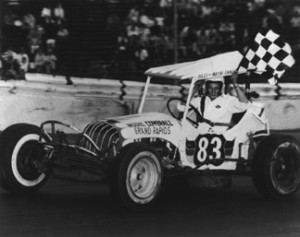 In the early sixties he raced seven times a week. Monday at Motor City, Detroit, Tuesday at Fort Wayne, Indiana, Thursday at Grand Rapids Speedrome, Saturday at either Jackson or the Speedrome, Sunday afternoon. Owosso, Sunday night at Dixie. Wayne said, "It meant working on the car every day and also a lot of time on the road".
In 1957 Wayne started his business, Landon Engineering, which Ruth helped maintain. He built many of his own cars from his first stock to his super modjfied and all his engines. Wayne had #88 until he went to a track once and some else had that number so he blocked out part of the eight and has run #83 ever since.
Wayne started running the Oswego, New York Classic in 1957 and was on the All Time International Classic Point List from 1957 to 1983. He began running there on a regular basis in 1962 to 1970 and only missed two weekends. He became a member of the $1000 Membership Club there by winning a Feature in 1966.
Over the years he has driven super modifieds for Jack Ehman, Steve Gioia, Bill & Jerry Knaff, who has had Bentley Warren chauffeur for them, Jim Ford out of Sandusky, Bob & Larry Van Hutter and Jim Nelson. He enjoyed all his rides but likes to drive his own racer with his own engine up front.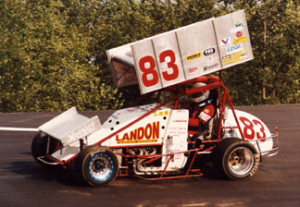 In 1963 at Dixie the throttle linkage stuck and he went off between the three and four turns. He nearly cut off his left foot, which had over 200 broken bones and had to have 245 stitches put in. In 1956, Wayne and Ruth lost their oldest daughter, Rita, age 3, when a wheel hit the fence she was standing near at Hastings Raceway. In 1979 their son, Terry, was killed on the way home from work at Oldsmobile in Lansing.
Jerry Landon helped Mace Thomas develop the Mini champs and now Wayne's & Ruth's Jerry has been driving to many feature wins. They have two daughters, Linda and Lorie but the shining stars are their grandchildren, Nick, Chris, and Tracy.
Wayne is always ready to help another racer get started or aid to run better. He built a car and helped a young Gordon Johncock learn to drive at the old Hasting track. Wayne is still running but doesn't know where it will be this year because of the travel time to race super mods. But if there is a race close to home the ole purple #83 will be on the track.
Wayne son Jerry also raced, but was killed in an accident at Kalamazoo Speedway in 1989. Jerry's son carries on the tradition as he currently races Sprint Cars. Wayne passed away on August 4, 2019.