Gary Lindahl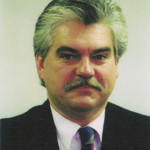 Gary Lindahl is best known for his column in the MARC Times "Did Ya Know" since 1975, and as an announcer since 1979, presently announcing at Flat Rock and Toledo Speedway. His love of auto racing started in 1956 at the age of four when his parents took him to the Jackson Motor Speedway and Toledo Raceway Park. These weekly trips continued through his teenage years. The memories of these trips and the cars and stars of this era remain with him today. Gary is short track historian of Michigan and Ohio tracks and serves as Master of Ceremonies at many Old Timer reunions and banquets, for which he accepts no fee for his services.
Gary's knowledge and enthusiasm as an announcer adds much to each racing show. When Gary is announcing a race, you can't help but get excited and enjoy your evening of racing. Well liked by drivers, owners and fans. Gary is truly deserving to be inducted into the Hall of Fame he helped establish many years ago.
AUTO RACING HISTORY
1975 to Present - March Times column "Did Ya Know"
1986 to 1989 - National Speed Sport News "Around Michigan"
1980 to 1985 - Jackson Citizen Patriot - Results and Stories, Butler and Spartan
AWARDS

1985 - Spartan Speedway "Golden Circle"
1987 - MARFC "Appreciation Award"
1989 - MARFC "Motorsports Writer of the Year"
1984 - Motorsports Hall of Fame "Appreciation Award"

Michigan International Speedway - Member Press Info Team 1979 to 1987
ANNOUNCER - 1979 TO PRESENT

Speedways - Auto City; Butler; Crystal; Dixie; Flat Rock; Kalamazoo; Onaway; Owosso; Toledo; Tri City; Galesburg; Michigan Ideal; Special Events: Pontiac Silverdome; Avilla All Star Sprints; Indianapolis Speedrome World Championship 3 hour Figure 8 Enduro; Salem Speedway; ARCA REMAX Series; City of Jackson Mini Grand Prix.
Has announced - Glass City 200; Dixie Classic; Mudslinger 100; Super Shoe; Kalamazoo Klash; Dealers Choice; Hoosier Sprint Classic; First World of Outlaw Race in Michigan; Last Dirt Race, First Pavement Race at auto City Speedway; Shows for USAC - ISMA -ARCA - TRISAC - S.O.D. and many others.
Most Associated Announcing - Spartan 1979 - 1999; Flat Rock 1986 - Present; Toledo 1999- Present

Served on Board of Michigan Auto Racing Fan Club 1988-1991
Founding Member - Michigan Motorsports Hall of Fame - Secretary
Race Directory - Spartan Speedway 1986- 1989
Radio Results Show - Tower 98 Radio 1989 - 1991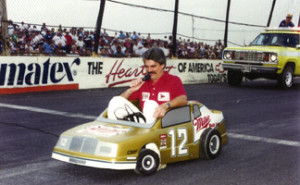 Considered one of the best sources of racing history in the Midwest, with nearly a complete collection of Marc Times Racing News, has well over 1,500 photos of cars and stars of past eras, plus hundreds of programs and magazines, dedicated to preserving racing history.