Art Bennett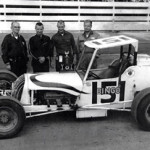 Art Bennett attended his first race at nearby Galesburg Speedway in 1948 and bought a 1932 Ford coupe, knocked the fenders off and the glass out, added some roll bars and went back to Galesburg to race.
Born in Battle Creek in 1931, Bennett became one of the states top super modified drivers. When Spartan Speedway opened Bennett won their first two features. Other tracks he raced at included Capital City Speedway. Motor City Speedway, Flat Rock Speedway, Kalamazoo Motor Speedway, Hastings Motor Speedway, Auto City Speedway, Jackson Motor Speedway, Dixie Motor Speedway, the Grand Rapids Speedrome, Toledo Speedway and Berlin Raceway.
One of the tracks he liked the most was Oswego Speedway in New York. On his first visit in 1961 he won the biggest race of his career. The prestigious "Oswego Classic". He returned the next year and took the point championship.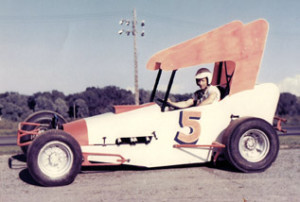 Although Art did run a few dirt track shows, he preferred paved tracks and pretty well stuck with them during his career. Bennett also ran a few sprint car shows at tracks like Illiana Speedway and the Indianapolis Raceway Park, both in Indiana.
During his super modified career, most of the time Bennett drove for Rex Olmstead. The Carl Behnke sponsored "Behnke Trucking" specials were always competitive.
He had a few crashes. Once at New Bremen Speedway in Ohio he cleared the retaining wall and ended up in the hospital, but was released with only minor injuries. Another time at the Grand Rapid Speedrome he flipped so hard that it tore off most of the roll cage. He was able to walk away.
Super modified racing was starting to wither in the Midwest by the early 1970's, and Bennett tried running Late Models, but it wasn't his thing and he hung up his helmet for good in 1974.