Logghe Brothers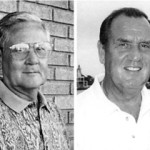 In terms of pure craftsmanship and innovation, few drag racing chassis builders can match the legendary reputation of the Logghe Brothers, Ron and Gene. Aside from having built some of the most successful cars in the sport, they also pioneered the first flip-top body Funny Cars. The Logghe Stamping Co. was founded in 1947 in Fraser, MI by their father Morris, as an automotive bracketry company serving the Big Three automakers.
Ron and Gene both began to work for their father in 1955, Gene at age 17, Ron at 15. They both had a desire to go sports car racing, but decided at that time it was out of their price range. Then in 1958, the brothers attended the drag races at the now long-defunct dragstrip at New Baltimore, MI. There were many local guys there, including Connie Kalitta, who had yet to become world famous. They loaned Kalitta a supercharger during this period, which Ron Logghe commented that it made Kalitta's car the first supercharged car on gasoline running in the state of Michigan.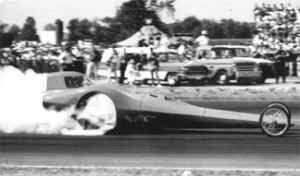 Soon after, the brothers began building cars for themselves, the first being an AA/Gas roadster with a small-block Chevy that Gene drove. After constructing Connie Kalitta's second-ever dragster, the brothers built their own dragster in which they started out running on gasoline, but eventually switched over to nitromethane. Gene was burned in this car at Ubly Dragway during a 187 mph run in 1962, putting him on the sidelines for a while. That led them to form their now legendary partnership with Jim Marsh and Roy Steffey. Ron remarks that Marsh and Steffey had the talent, but lacked the funding, so the Logghe's built their car and sponsored them. The result was "the Giant Killer" which in 1964, became the first non-supercharged car to run in the seven second zone. 1965 was the pivotal year that the Funny Cars truly came into their own, evolving from the Factory Experimental cars. Lincoln-Mercury's Al Turner approached the Logghe Bros. about doing something even much more different from what all the other Funny Car teams were doing, something truly ahead of its time. The results were one-piece "flip-top" body, tube-frame, ladder-bar rear suspension, four corner coil-over shock cars that revolutionized the Funny Car category.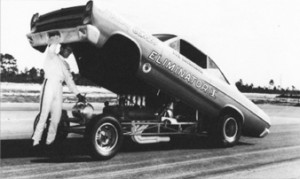 Ron Logghe remarked that they literally introduced the coil-over design to the racing industry, still a standard design today in many racing applications. MMSHOF Inductee Al Bergler did all the interior tinwork on the Logghe Bros. cars. The Logghe Brothers customer base over the years has been a virtual who's who of Drag Racing: Maynard Rupp, Dyno Don Nicholson, Fast Eddie Schartman, Jack Chrisman, Connie Kalitta, Butch Leal, Bill Lawton, Bruce Larson, Gene Snow, Roland Leong, Don Schumacher, Mr. Norm's Grand- Spaulding Dodge, Jungle Jim Liberman, Gas Ronda, Tommy Grove, the Ramchargers, Roger Lindamood, Al Bergler, Terry Hedrick, Jay Howell, and many, many more. While the racing chassis component of Logghe Stamping was discontinued in 1975, the company lives on to this day, along with Ron's son Dan, and Gene's son John serving as Vice Presidents. Ron passed away in May 2020. Gene passed away in August 2021.