Gary Long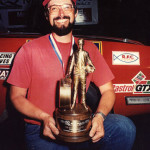 Gary Long is a lifelong Michigan resident who was born and raised, and lived for many years in the Shiawassee County city of Corunna. In 1984 Gary married his wife Yvonne, and they also lived in Henderson, MI for a period of five years. Gary and Yvonne now live in Perry, MI, having moved there in the spring of 2006. He initially began drag racing motorcycles in 1967, running at local dragstrips. In 1970, Gary ventured into a serious Stock Category drag racing partnership, racing a four-speed 1969 Mercury Cyclone 428 Cobra-Jet. The car was a performance success almost immediately, running within .25 seconds of the National Record for its designated class. In the spring of 1972, Gary bought out his partner's financial interest in the car and began racing the car on his own from that point on. As is typical of seasoned drag racers from the "old school", Gary is no different, performing 100% of all work on the car, including building his own engines and transmissions. Gary's accomplishments in Drag Racing include Five NHRA National Event wins, which includes a win at the prestigious U.S. Nationals, three NHRA Divisional point meet wins, and two NHRA National Event runner-ups, among others, to make an enviable wish list that any drag racer would dream to have in their racing resume.
NHRA National Class Records

H/Stock - 1973 F/Stock - 1974
F/Stock Automatic -1974 J/Stock - 1975
E/Stock - twice in 1974 F/Stock - 1978
NHRA National Event Individual Class Wins
WinterNationals @ Pomona, CA. 1974
SportsNationals @ Indy Raceway Park 1974, 1977, 1980, 1981, 1983, 1985, 1986
SummerNationals@ Englishtown, N.J. 1974, 1975, 1977, 1980, 1981, 1983, 1986, 1988
U.S. Nationals @ Indy Raceway Park 1974, 1977, 1980, 1981, 1982, 1985, 1987
Mid-South Nationals @ Memphis, TN 1988, 1989, 1991
Keystone Nationals @ Mohnton, PA 1987
NHRA National and Divisional Races, Overall Stock Eliminator Performance
1977 SportsNationals (Winner) 1978 GatorNationals@ Gainesville, FL (Winner)
1978 CajunNationals @Erwinville, LA (runner-up) 1981 Indy Divisional (Winner)
1983 SummerNationals (semi-finalist) 1985 Indy Divisional (Winner)
1986 Central Mich Dragway Divisional (Winner) 1986 U.S. Nationals@ Indy (Winner)
1987 Indy Divisional (Winner) 1987 MileHigh Nationals@ Morrison, CO (Winner)
1987 TRW All-Star (runner-up) 1988 Mid-South
Nationals@Memphis,TN
(Winner)
1988 NorthStar Nationals@ Brainerd, MN (runner-up) 1988 U.S. Nationals (semi-finalist)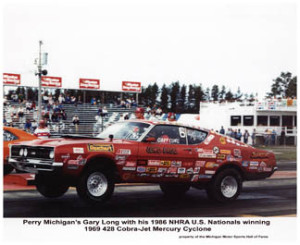 Gary qualified for the NHRA World Finals twice, 1973 and 1974. Finished 14th in the overall National W.R. Grace Cup points in 1978, and was 3rd highest in the nation among Stock class cars in those standings. He is a four-time Top Ten finisher in NHRA Division 3 Stock points, 3rd in 1981, 9th in 1984, 4th in 1985, and second in 1987. In 1985, Gary finished second in Stock points for the Ford National Cup. He earned a berth twice in the prestigious TRW All-Stars Series in 1985 and 1987, representing NHRA Division 3. Gary is a two-time Top Ten finisher in NHRA World Championship Points, earning a 10th in 1987, and a 6th in 1988. In 1992, Gary Long essentially stepped away from racing due to family and job demands. However, he never quite stepped that far away. Back in the fall of 1982, with all his successes with his Mercury Cyclone, Oldsmobile showed interest and gave Gary a 1982 Cutlass for Stock class competition. He built the car to conform within Stock rules, and ran the car a few times in 1983 and 1984. It did not perform to his own expectations, and already having a very competitive car in the Mercury, he parked the Olds and put it in storage. Fast forward to 1997. Gary's stepson, Eric Stewart, decided he would like to go racing, and poof, Gary Long is back into drag racing, now as a crew chief. The Olds was bracket raced in 1997-1999. In 2000-2001, the car went through a complete transformation by Gary and Eric into a NHRA/IHRA legal Super/Stocker, running in the SS/MA class. Using a 307 Olds for power, Eric has won the SS/MA class title twice at IHRA National events, and in 2006, scored a Super/Stock runner-up at the NHRA Division 3 Points Meet at Stanton, MI. Gary Long was just not able to stay away from racing, and now he and Eric are able to share this together. The Mercury? Of course Gary still has it, and who knows? And as Gary's old tagline lettered on the Cyclone said, "That's the Long and the short of it".