Troy Ruttman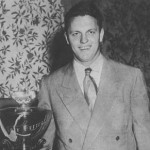 At the young age of sixteen, Troy Ruttman took to California tracks in the old jalopies and quickly graduated to roadsters, winning the 1947 California Roadster Association title. A trip to the east coast, racing midgets, further whetted Troy's appetite for racing.
The following year, Ruttman stayed on the west coast and won the United Racing Association midget title and the roadster title again. Producing a phony birth certificate, he got a ride in the prestigious J.C. Agajanian's car but lost the ride when Aggy found out he was underage.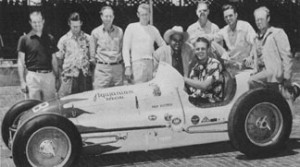 When 1949 rolled around Ruttman's racing world was rapidly expanding. He picked up an AAA sprint car ride and won the first feature he was ever in on the high banks of Salem, Indiana. Troy finished second in the Midwest AAA sprint car standings for both 1949 and '50 and followed that up with the Midwest AAA sprint car championship in 1951. He also added the Pacific coast AAA championship trophy that year. That was also the year that he took a used 1948 mercury and won 4th place in the 2,000 mile Mexican Road Pace finishing right behind the winning Ferraris.
Indianapolis had beckoned in 1949 and Ruttman raced in his first 500 at the illegal age of 19. After two years of underage driving at Indy, Troy turned a legal 21 in 1951 and went back to driving for J.C. Agajanian but failed to finish the race. Then everything came together in 1952, when again at the wheel of Aggie's car, Troy Ruttman became the youngest driver (22) to ever win the Indianapolis 500.
Just as lady luck had smiled on Ruttman, she now turned her back on him. Shortly after his 500 win, Ruttman suffered a serious arm injury in a sprint car race at Cedar Rapids and was out of racing until 1954 when he placed 4th at Indianapolis.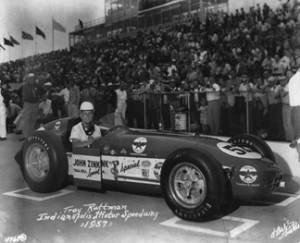 Ruttman continued to compete at Indianapolis through 1964 and led a total of 57 laps in competition in the years of 1952, '57, '60, and '61. Troy also competed in two Monza 500's in Italy. In 1957 he won the 3rd heat and was second overall for the 500 miles. The following year his car failed to finish. Ruttman also competed in one Grand Prix, the French Grand Prix run on July 6, 1958 in a Maserati and finished 10th. Ruttman retired from racing in 1964.
Troy Ruttman died in May, 19, 1997. (1930 - 1997)