Jon Lundberg Sr.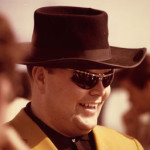 Jon Lundberg has been infatuated by fast automobiles ever since he was 13 years old, when he witnessed his first drag race at the Capitol City Airport in 1950. In 1953, at age 16, he stood atop a 55-gallon oil drum at the unpaved Central Michigan Dragway in Stanton and with a megaphone at hand announced his first drag race. Forty-four years later he continues to practice the craft he perfected in the sport he loves. In 1962 he expanded his activities to include announcing at Detroit Dragway, Onondaga Dragway, Lansing Speedway, and Jackson Motor Speedway.
The next year he began traveling to national events including the AHRA sanctioned Winternationals in Phoenix, AZ and the U.S. Fuel and Gas Championships in Bakersfield, CA. He also began writing articles in Today's Motorsports Magazine. Is was at that time he was first called the "Voice of Drag Racing" by the competitors. Jon "Thunderlungs" Lundberg, The voice of Drag Racing has announced more major events than any other announcer. Between 1964 and 1978 he covered more events per year (up to 42), and appeared at more than 120 different dragstrips. He voiced all sanctioning groups: AHRA, ATAA, NASCAR, NHRA, PDA, IHRA, PRO, UDRA, and 1320. He covered all of the major events like the Super Stock Nationals, Popular Hot Rodding Championships, Olympics of Drag Racing, Drag News Invitationals, National Challenge, and the before mentioned U.S. Fuel and Gas Championships.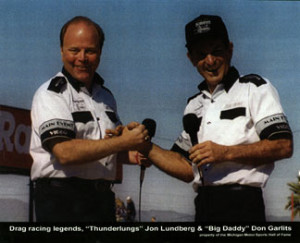 He has contributed to an 33 rpm album on drag racing for Epic Records. In 1965 He hosted a weekly television show called "Drag Racing, USA", on WKBD - TV (Channel 50) in Detroit. He announced the "Pay for View" event at the AHRA Winternationals. He was featured in an article in the September issue of Drag Racing Magazine. Between 1968 and 1971 he toured the country with various performance exhibits including the "Street Scene" presented by Mercury. The Coca-Cola sponsored "Funny Car Cavalcade", and the United States Racing Team. In 1970 he received an award from Hurst Armed Forces Club for "contributions to the growth and betterment of the sport", with "Voice of Drag Racing" acknowledgement.
He announced Shirley Muldowney's first 5 second run at Martin 131 Dragway in 1978, and announced her return to the sport in 1987 after her life-threatening injuries in Quebec. He announced Eddie Hill's record 4.99 e.t. run at Texas Motorplex in April of 1988. He also announced Don Garlits' last run in 1988. It was a "blowover" at the World Finals in Spokane, Washington. Jon cut back his intense schedule at the end of that year. He founded an automotive consulting firm called A.R.I.S.E. in 1990. He continues to announce nostalgia and reunion events including the annual Super Stock Nationals Reunion.
Early in 1997, Jon's energies took even yet another direction as he became the president of the R.E. Olds Transportation Museum. He retired and moved to Arizona in 1998. The acceleration motor sport's most famous call to action is, "attention in the pits!" Wherever it thunders forth seasoned fans tell now ones, "that's Jon Lundberg, the Voice of Drag Racing".