Frank Luptow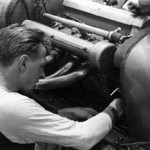 Frank Luptow was a native of Detroit and a product of IMCA (International Motor Contest Association). Later he entered AAA, blazing a winning trail.
He ran Motor City midgets - class "B" which was V-8 60s and Elto's, etc. as contrasted to Offies. Prior to WWII and in 1941, he led the class "B" ranks for a while. Frank also had a pair of big cars in the 40's and had Eddie Zalucki, Sr. for a teammate for a time.
He became a strong runner with IMCA after WWII, with races at Jackson, Owosso, South Bend, etc. When IMCA was not scheduled, he raced the Black Lawrence Jewell HAL and then in 1948 had his own Offy, the famous "Black Panther."
In 1948, Frank trailed Deb Snyder, Emory Collins, Jimmy Wilburn, and Wally Stokes in MCA point standings but in 1949 his black #9 was a steady tenant in victory lanes and became IMCA Champion. He racked up 38 first in 47 starts with five seconds, one third, and 25 track records! (This is according to Champion Sparkplug Company who were one of his sponsors)
Frank repeated as IMCA Champion in 1950 and 1951 and was a class act with his Cadillac convertible towing the famed Offy.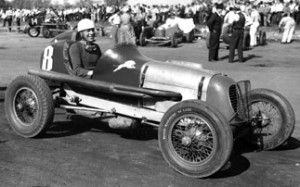 Frank wintered in Tampa in these years and his duels with the locals at Plant Field and Florida Fair events were legend particularly, his on-track racing with Harry King (also of Detroit) were awesome. King and Frank were hub to hub regularly and when Bob Sherk, Tampa car owner, furnished King a spanking new Offenhauser sprinter, the tenseness of the competition was even more heated.
In 1952, Frank went AAA to compete with the Indy types and was not the least bit out of place with their racers. His early year track record for one lap at the famed Williams Grove Speedway in Pennsylvania gave notice that Frank and the black #9 were to be heeded.
Unfortunately in September of that year at Lakewood Speedway in Atlanta a notoriously bad and dangerous track Frank in a Hudson Hornet stocker got airborne and he was fatally injured thus cutting short what had promised to be a brilliant AAA continuation of his racing career.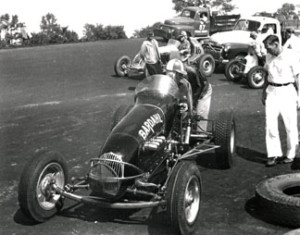 In Michigan Frank won at Hastings on the flat fair grounds track. He won on the high-banked Jackson Speedway and he had feature wins at Milford on June 8, 1947 and June 26, 1949. While running with C.S.R.A. (Central States Racing Association) at Owosso on June 19, 1949 he qualified 2nd out of 26 big cars and finished 2nd in the feature and on Sept. 30, 1951 qualified fastest out of 27 big cars and finished 3rd in the feature.
In 1947 racing part time with the Inter State Racing Association (Jackson, Milford and lonia, Michigan Playland Park in South Bend, Indiana, Tiffin, VanWert, Berea, Ashland, and Painesville, Ohio), Frank Luptow was 5th in points behind Red Bales, Fred Hawes, George Tichenor, and Wayne (Speed) Wynn.
NOTE: Frank's widow Betty eventually was married to Bobby Grim. There is no question that Frank Luptow would have his place in our Michigan Motor Sports Hall of Fame.