John Benson Sr.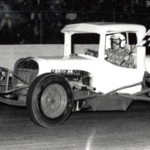 John Benson is one of the few racers who managed to bridge the gap between modifieds, super modifieds, and late models. The soft-spoken Benson is often thought of as being aloof but he is probably one of the shyest racers around.
John's career started at the Grand Rapids Speedrome back in 1956 with the jalopy class. His first season went well enough to win him the Rookie of the Year title. By '58 John had won 12 features at the Drome and won the track championship. By the time the Drome closed in '66, John had moved into the super modifieds. In between was a season of racing a midget.
It was in '66 that Benson set the super modified world on fire when he invaded Oswego Speedway in New York, the Indianapolis of super modified racing and broke the track record and proceeded to win the prestigious Oswego Classic. It was done in the "White Tornado" built by John. The car went on to become a 'historic racing car.
John was given the opportunity to go racing full time at this point but declined for his family's sake and continued on as a Saturday night racer.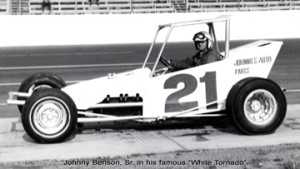 At this time, Michigan tracks dropped supermodifieds and late models were the top class. Benson made the transition very smoothly and at, one track alone, Berlin Raceway, John won the '69, '71, '72, '73. '76, '77, '78 season point championships. John went on to become the only racer to ever win in excess of 50 features at Berlin Raceway. When you consider that Berlin has al­ways had to cream of the crop racing there it becomes that much more evident of how successful Benson was.
Although semi retired nowadays, John keeps busy building racing components for racers and his success there is very evident when you begin to notice the Benson Equipment name on the side of most of Michigan's better racers.
John Benson is a very complex person. He is many things to many people, first of all a family man, who thought more of his family than he did of the glory he could win on the race tracks by going racing full time. John is a mechanical genius who builds a great deal of the winning components found on the champion racecars on the tracks today. John is a champion racer who could and did win in every type of racecar he sat in.