Norm Rust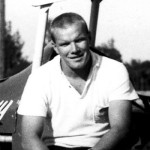 Norm Rust was born in Detroit, Michigan on May 3rd, 1932. He began racing at age of 21, when he built his own 1934 Ford Coupe and raced it at Motor City Speedway. He finished 26th in that first event. Norm continued racing coupes through the 1954 season. In 1955, he started his Super modified racing career by driving a car owned by Bill Campbell from Hartland, Michigan, From 1956 through 1958, he drove the Sernick #660 car out of Detroit, He ran in the top four most of the time and in 1957 was hurt in Toledo, Ohio, splitting his helmet in two, resulting in a concussion. In 1959 he drove for his good friend Mickey Katlin. He recorded his first feature win in a hard coupe at Bob's Picnic Park in Pontiac, Michigan. He ran in the top five most of the time and a Super modified main event at Dixie Motor Speedway.
In 1961, Norm's racing career began to blossom. He landed a ride in the Vern Ottmar Sprint Car out of Ann Arbor. The car had a 301 Chevy engine built by good friend and co-worker ( at General Motors Proving Grounds in Milford as a test driver) Jack Layton. The car was small in comparison to other Sprint Cars of the day and Norm was larger than most drivers at six feet. Several modifications needed to be made to fit him into the cockpit. Vern, Jack and Norm began to make the little car work. Running on gas, the number 66 raced at Ionia and finished fourth in preparation for the "Little 500" in Anderson, Indiana.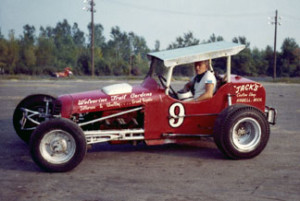 At Anderson, they set fast time as Norm could drive the car farther into the corners than anyone else as he had power brakes. Leading the "Little 500", Norm brushed the wall and the overflow hose got under the water pump belt and knocked it off, causing the car to overheat. Norm raced two more times at Ionia finishing first and second. Norm also set fast time at Kalamazoo. In 1962, Norm ran his own number 78 Supermodified with a Jack Layton engine. He ran in the top four in most every race and won one main event at Dixie. In 1963, he drove Bob Patterson's "8-Ball" Super modified from St. Johns and Jackie Atkinson's car number 98 from Grand Rapids. He won a 100 lap main event at Dixie and had a flat tire while leading at Oswego Speedway in New York in the #98.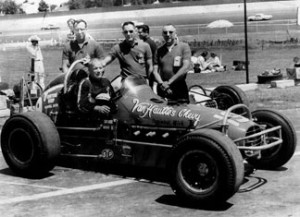 In 1964, another enormous turn of events happened as Norm began to drive the number 9 VanHautte Chevy Super modified out of Saginaw. He won a main event at Berlin Raceway in Marne. He also won a main event at the Grand Rapids Speedrome and the "Midwestern Super modified championship", a 100 lapper, at Dixie Motor Speedway. During the 1965 season, Norm and the VanHautte team continued to dominate the competition. Norm won a 50 lap and a 100 lap main event at the Grand Rapids Speedrome. He also won a 100 lap main at Dixie Motor Speedway and the 100 lap "Season Championship" at Lorain County Speedway in Ohio. In 1966 Norm continued driving for VanHautte in the red number 9.
He ran in the top four most of the season and won the 100 lap "Season Championship" race at Dixie.
The team then traveled to Minneapolis, Minnesota for an IMCA event at the Minnesota State Fairgrounds. They broke the track record held by A.J. Foyt and finished 3rd in the 100 lap feature after leading the initial 95 laps. The car started blistering a tire and he had to slow down.
During the 1967 season, still driving for Van Hautte, he crashed hard at Berlin Raceway, breaking his nose and fracturing his skull. After recovering, Norm hung up his helmet, ending a long, successful and wonderful racing career.