Maynard Rupp Jr.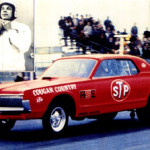 Maynard Rupp, Jr. was actively involved in drag racing from 1960 through 1967. During that time he built and drove many cars, mostly dragsters and funny cars. His first successful car was a C gas dragster, which he rebuilt from an old chassis he purchased from Roy Steffey. Roy later became his partner and crew chief for their successful line of top fuel dragsters and funny cars. With this early gas dragster, he was able to set the national record for C dragster in 1962.
At the end of 1962 Maynard was approached by Larry Posluszny to pilot his top gas dragster. NHRA had banned fuel dragsters at that time so these top gas cars were very popular. During that season they enjoyed some success with Larry's car called "The Grunt". Maynard's highlight of the year was establishing top speed at the then famous Bakersfield Gas and Fuel Championships at Famosa, California.
In 1963, 1964, and 1965 Maynard built and drove a long list of fuel dragsters. The popular Chrysler Hemi powered some with superchargers and of course a healthy mixture of Nitromethane. He became Roy Steffey's partner during that time. Roy was an excellent engine and chassis builder. They both worked at Logghe Stamping building some of the finest dragster and funny car chassis. Roy and Maynard built their own engines, trailers, and anything else they needed for their campaign. Roy built some famous unblown Chevy fuel engines while Maynard drove these little fuelers, called "slot racers" by the media for their race team called "Rupp & Steffey Enterprises" or RSE. Their success with these little engines was mostly due to the tires available at that time. The blown Chrysler cars couldn't get the power to the ground. The RSE cars were considerably lighter and could do much better with the available tires.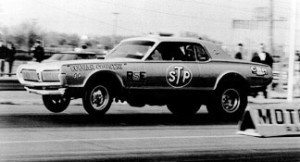 Tire compounds improved and they were forced to abandon the little engines and join the crowd. By spring of 1965 they had everything figured out pretty well and were able to win the first NHRA Springnationals at Bristol, Tennessee. With this win and a new national record in their pockets they opened their best season. Later that year they won the World Championship at Tulsa, Oklahoma.
With all eyes turning from dragsters to fuel funny cars, Ray and Maynard built and raced cars in these categories during 1966 and 1967. Their car was called "Chevoom" and was a most unique funny car. This rear-engined Malibu look-a-like won many awards for best-engineered car and won the prestigious "Riddler" award at the 1966 Detroit Autorama. This "best in show" award is rarely won by a racecar.
Maynard's personal favorite car was their last. In 1967 Maynard and Roy built a Mercury Cougar funny car with a sponsorship from STP Corporation. They also received lots of help from Lincoln-Mercury and Car Craft Magazine. Their funny car had the best of everything. Every part was scrutinized and only the best and lightest components were used. The car ran great but they had no luck the entire season. At the end of 1967, both Maynard and Roy decided to pursue different careers thus ending their racing era.
Today Maynard Rupp is employed by an Interstate natural gas pipeline company as a corporate pilot. He has been flying jets for this company since 1970 and has traveled to the corners of the earth. He lives with his wife Jane, in Grosse Pointe Woods. They have two grown boys.