Rock Running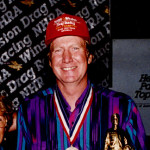 Rock Running of Lapeer, MI, was born March 5, 1942. He began his drag racing career at Ubly Dragway in 1964, and also competed at Lapeer and Tri-City Dragways. He has raced in NHRA Stock and Super Stock since 1970.
He started into more serious competition by racing a 1966 Pontiac Catalina with a 389 under the hood. He later switched to a 1970 Pontiac Firebird with a Ram Air 400. He continued with Pontiacs when he raced a 1974 GTO, and then a 1971 LeMans powered by a 455 H.O.
He switched to Oldsmobiles when he debuted his 1983 Cutlass. He's also raced a 1988 Cutlass and a 1990 Calais. He currently campaigns a 1993 Oldsmobile Achieva, which competes in the Super Stock GT/JA class. The Achieva and the Calais were front-wheel drive to rear-wheel drive conversion Race Cars built by F.J. Smith from Canada. He also has a 1986 Cutlass, which competes in the SS/MA class with a 307 Olds engine. With the Achieva, he was the NHRA National class record holder, 1997-1998.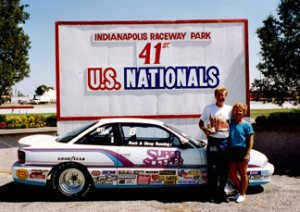 Rock has been a consistent competitor in NHRA. He was the 1989 and 1990 N.H.R.A. Division Three Super Stock Champion as well as finishing third (twice), Fifth, Seventh, Eighth, and Ninth in World Points. He also has a runner-up in Stock Eliminator World Champion to his credit. He has five National Event wins and has been runner-up 10 times. He's won 64 National Event Class titles. The latest was during the 2001 NHRA Gatornationals in Gainesville, FL. Also in 2001, Rock won his class title at every NHRA National Event he entered, which was most of the NHRA schedule.
He also won 17 divisional events and was a Division Three representative for the prestigious TRW All-Stars in 1991. He also received the coveted Joe Dill Award, awarded by the NHRA Division III Certification Team in 1995.
His cars have appeared in numerous magazines including the 1987 Oldsmobile Calendar. He's also been in Super Stock, Car Craft, High Performance Pontiac, and Popular Hot Rodding magazines. He and his crew have received the "Best Appearing Crew Award" at the U.S. Nationals. His cars have been featured on Wide World of Sports on ABC-TV, and NHRA Today on ESPN.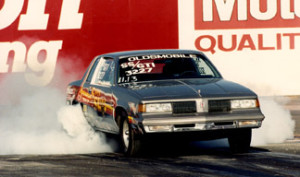 Rock Running is a computer quality checker for Cadillac in Grand Blanc. His lifelong partner in marriage and racing is his devoted and knowledgeable wife, Ginny. They have two children and three grandchildren.
He builds and assembles his own racing engines, and the 1986 Cutlass is currently the quickest and fastest car in its class in the nation. Rock is nearly always one the fastest qualifiers in Super Stock at every event he enters. Son Randy, and his wife Robyn both also drive and campaign late model Camaro and Firebird Super/Stock cars out of the Running Family stables. Rock's busy schedule will find he and Ginny racing as far east as Virginia, as far south as Florida and as far west as Texas and Kansas. For as long as he has been racing, Rock Running has always been a major competitive threat and winner, and has been regarded by all as one of the true nice guys in the sport, a legitimate gentleman.