Jerry "The Bear" Makara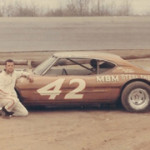 Jerry "The Bear" Makara, (a nickname from early age) was born in Detroit on August 3, 1944. Jerry's first exposure to auto racing was when he attended Figure 8 races at Flat Rock Speedway with his friend, the late MMSHOF Inductee, John Anderson. After seeing these Figure 8 events, they helped each other build their own first race cars to compete in Figure 8. Jerry competed in his very first Figure 8 race in 1967 at Flat Rock Speedway. He competed in his last race in 1992 at Toledo Speedway.
Jerry very quickly advanced in skill in the wild Figure 8 Division, and in only his second year of racing, he captured both the Flat Rock Speedway and the Spartan Speedway track championships in 1968.
Jerry's ultimate desire was to compete in the top tier Late Model division, and after his breakout Figure 8 successes in 1968, he was a sought-after driver for the 1969 season. He teamed up with car owner Al Thornton driving the #78 Chevelle. In his rookie year with the late models, he finished second to Joe Ruttman in the Glass City 200. He was aptly named both the ARCA and Marc Times Racing News Rookie of the Year. In 1970, Jerry teamed with car owner Jimmy Howell and captured his first feature wins in Late Model at both Toledo and Flat Rock Speedways.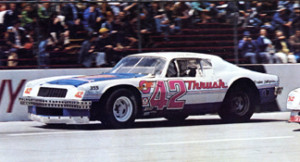 In 1971, Jerry really began to hit his stride after teaming with Bill Beatty and the MBM Fabricating-sponsored #42 Chevelle. From '72 through '74, they owned the Cayuga track titles, as they raced in Canada as well as the U.S. The 1974 season was especially successful racing a brand new Ed Howe-built Camaro, as Jerry won the NASCAR Canada Export A Series Title, which was a series of extra distance races all across Canada. Jerry also won the annual Northern 200 at Cayuga, winning over a field of a who's who list of top-rated drivers. Jerry ended the '74 season by travelling to the annual Octoberfest race at LaCrosse Speedway. Jerry won the even-qualifying feature and the championship feature, crowning him the overall champion of this prestigious race.
1975 would be another banner year for Jerry as he claimed a second consecutive NASCAR Canada Export A Series Title, and numerous feature wins. However, the season ended on a sad note. Bill Beatty, who was like a father figure to Jerry, succumbed from cancer, ending their very successful partnership.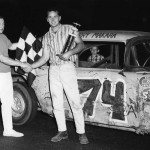 The 1976 season began and Jerry was without a ride and drifting into racing retirement, when the Thrush Muffler Company of Canada came calling. They offered a deal including new race cars, hauler, show cars, guest appearances, uniforms, and a fan club. Russ Draime, a successful engine builder from Ohio provided the power. Jerry's accomplishments are numerous, and to continue this biography in the space allowed, it continues in most-important-win highlight form:
1968 Flat Rock Speedway Figure 8 Season Champion
1968 Spartan Speedway Figure 8 Season Champion
1972 Cayuga Speedway Late Model Season Champion
1973 Cayuga Speedway Late Model Season Champion
1974 Cayuga Speedway Late Model Season Champion
1974 NASCAR Export A Series Season Champion
1975 NASCAR Export A Series Season Champion
1976 ASA Bluegrass 300 @ Louisville, Kentucky—Winner
1976 ASA Red Bud 300 @ Anderson, Indiana—Winner
1976 ASA Midwest 300 @ Salem, Indiana—Winner
1976 Spring 100 @ Queen City Speedway, Ohio—Winner
1976 Maple Leaf 250 @ Cayuga Speedway—Winner
1976 National 300 @ I-70 Speedway, Missouri—Winner
1977 NASCAR Modified 200 @ Trenton, NJ—Winner
1977 NASCAR Modified Patriot 300 @Charlotte, NC—finished 2nd to Harry Gant
1977 ASA Bluegrass 300 @ Louisville, Kentucky—Winner
200 plus Lifetime feature wins in Figure 8, Late Models, and Modifieds