Ross Brothers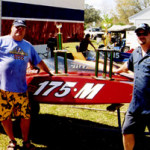 It all started with Bob Ross who introduced his sons, Mike and Tim, to the boat-racing world. Bob had won many marathons in the stock outboard racing division. The most famous was the 90-mile Winnebago Marathon in Wisconsin. He also ran the Top-O-Michigan marathon and placed well but never won. His boys changed all that.
Mike won his first nationals in 1977, which was two years after he started in 1975. Their boat number 75M was chosen because it was the year that Mike started. After 1977, the Marathon Nationals have been and continue to be held at Top-O-Michigan. Mike's first national championship at Top-O-Michigan was in 1980. He continued this winning national streak in 1981, 1982, 1983, 1984, and 1985.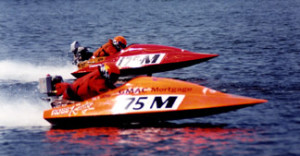 His brother Tim, started racing in 1981. Tim began his own nationals winning streak by winning the Top-O-Michigan marathon in 1985, 1986, 1987, 1989, and 1990 in two different classes. Mike also continued to win national championships in 1987, 1988, 1990, and 1994. Mike won the Top-O-Michigan in four different classes during his racing career. During the 1970's and 1980's, Mike added four separate short course national championships to go along with his now 10 Top-O-Michigan marathon championships.
With Tim already having five marathon national championships under his belt, he would begin a streak of consecutive wins in the C-Stock Runabout Class (CSR). It started in 1997 and continued through 2007 making it eleven consecutive wins in the CSR class, which is unprecedented. Tim also continued to excel at the short course national wins and a marathon national championship.
Tim received APBA's highest honor and was inducted into the Hall of Champions for his stock outboard division. Tim was also inducted in 2006 into APBA's Region 6 Hall of Fame.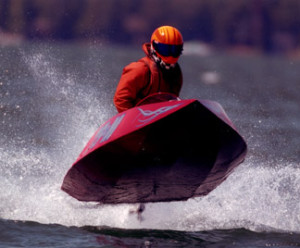 Between 1975 and 2007, the Ross Brothers have stacked up 27 marathon national championships and 8 short track national championships for a grand total of 35 national national championships, making the Ross Brothers a dominant factor for over three decades. Tim continues at age 38 to be a force to be reckoned with. Tim is shooting for his 12th consecutive national championship at Top-O-Michigan. He currently holds the record for most wins at Top-O-Michigan with 15 national championships. Vic Brinkman holds the number two spot with 12 Top-O-Michigan national championships and Mike Ross is just one behind Vic with 11 Top-O-Michigan national championships.