Willard G. "Wild Willie" Rose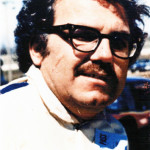 Willard G. "Wild Willie" Rose began his career with a demolition derby in 1967. He won that event at Dixie Motor Speedway. As a joke, his brother painted "Wild Willie" on the car and the name stuck throughout his storied career. Willie entered hobby stock division at Auto City Speedway later that year. He set a track record with a 1958 Chevy in his first year of competition in his #34, a number he continued to run his whole career. He won four features in his rookie season.
The following year he was the Sportsman of the Year at both Auto City and Dixie Motor Speedway. He also set the fastest time of the year in his class at Auto City.
In 1969 he was voted "Favorite Driver" by the Auto City Fan Club, and Driver of the Year at Dixie. The following year he moved up to the Super Stock division and was honored as "Rookie of the Year" and won three features.
It didn't take long to to see success as he won the track championship at Auto City in 1971. He continued his success and won repeated as champion at Auto City as well as Dixie. He bounced back and forth between racing the sportsman class and the super stocks.
The following year he made it three championships in a row at Auto City, plus he became the first ever MSPA "Carling Circuit of Champions" titlist. He was also voted as the "Driver of the Year" at Standish Speedway, and set the fastest time at Raceland Speedway.
He enjoyed traveling to different tracks and the fans really liked him as he was awarded the "Driver of the Year" at Crystal Raceway in 1974.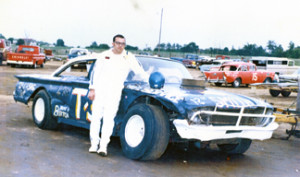 In 1975 he repeated as track champion at Auto City in the super stock class. He won 10 features at Auto City, 6 at Dixie, 4 at Standish as well as wins at Spartan, Owosso and Ionia.
He earned the track title at Crystal in 1976, and set fast time at both Crystal and Ionia. Known for his great qualifying efforts he once again set fast times at Tri-City Motor Speedway in 1977 and at Owosso in 1978.
He earned another track championship at Auto City in 1979, as well as finishing second in a ASA race at Fairgrounds Speedway in Louisville, Kentucky. Car owner John Fletcher remembers the reaction from some of the other competitors when they arrived in their plain looking, ugly car. At the end of the day the laughter turned to tears when he pulled out with the money and trophy. He won 5 features at Dixie and also won the track championship at Standish.
He was voted as the "Favorite Driver" again at Auto City in 1980. This time by the Junior Fan Club. The following year Willie was the track champion at Standish Speedway and runnerup at Auto City and Dixie.
In 1982 was shaping up as his best season ever as he was leading the points at Auto City, Dixie, and Standish. He had won three of four features at Auto City. Two of three at Dixie and all three up to Memorial Day at Standish. He had won features at Crystal and Ionia, plus a 100-lapper at Auto City on Memorial Day weekend. But on May 31, 1982 he tragically died on lap 60 of a 100-lap race at Tri-City Motor Speedway of a massive heart attack while running second. He was challenging the leader when he suddenly slumped over.
In 15 short years Willie left a significant mark and a treasured legacy behind in the world of auto racing. He won a total of 12 track championships at four different tracks. Rose accomplished some amazing feats amassed a most impressive win record. He was admired by auto racing fans all across the state. He easily won over 100 feature events in his career. (1940 - 1982)