Al Bergler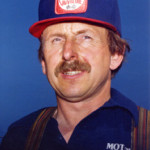 Michigan native and Shelby Township, MI resident Al Bergler, is a longtime Drag Racer who has been a major force in the national scene, both in the Sportsman and Professional ranks. Al's lifelong vocation has fit in well with his racing efforts, as he is also one the highest regarded racecar body part fabricators in the world. In 1964, Al won the very first ever, prestigious Don Ridler Award at the Detroit Autorama with his race car of that time, "More Aggravation", a car that race fans will remember well. This Sportsman car ran in the old AA/Comp coupe class of the now-defunct Super Eliminator category.
It was a mixture of a dragster front end with a '32 Bantam body. Detroit's famed Logghe Bros. built the chassis, and of course, it featured one of Al's own immaculate aluminum interiors, and an innovative canopy-enclosed cockpit. Bergler kept this car competitive for a number of seasons with body and chassis updates. With "More Aggravation", he won the Super Eliminator title at the 1966 NHRA Springnationals at Bristol, TN. He also took the 1966 NHRA Division 3 Super Eliminator points crown, and was runner-up at the 1966 NHRA World Finals to winner John Kenderski. Al also was presented with the prestigious P.A. Sturtevant Mechanic Hall of Fame award in 1966, for his own efforts on his car regarding the 1966 Springnationals victory.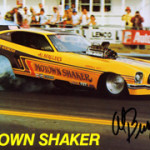 In 1967, Al nearly repeated the feat once again at the NHRA Springnationals, as he scored a runner-up in Super Eliminator. 1968 saw Al score a runner-up again at the NHRA World Finals at Tulsa, OK. 1969 witnessed Al moving up to the now-defunct Top Gas Dragster category with a car he obtained from the Logghe Bros. Competing in a category then dominated by twin-engine cars, he nonetheless recorded a runner-up finish with his single engine car to winner Larry Brown at the 1969 NHRA Summernationals.
In 1971, Al moved up to the fastest coupes of all, the nitro-burning Funny Cars, with the first of his now-legendary "Motown Shaker" entries. Any fan who attended match races during that era will surely remember Al's "Motown Shaker" Funny Cars, which were as equally famous and recognizable as another legendary Midwest team, the Farkonas, Coil, and Minick "Chi-Town Hustler" Funny Cars from Chicago. After purchasing a Vega-bodied car from the Logghe Bros. and Tom Prock, he retained Tom Prock as a driver for 1971, and then hired Butch Maas to drive his car on the Coca-Cola Cavalcade match race circuit in 1972.
In 1973, Al returned to the driver's seat, and recorded runner-ups at the NHRA Winternationals at Pomona, CA, and at the NHRA Gatornationals at Gainesville, FL. He was one of the most popular and frequently booked drivers for Funny Car match racing competition until his retirement from driving in 1983. Al Bergler's body fabrication customers over the years have been a virtual who's who within the sport, the biggest names one can imagine. Al has remained busy in semi-retirement by continuing his highly skilled aluminum interior work, concentrating mostly on street rods and custom cars and trucks. In June of 2004, Al Bergler was one of the featured honorees at the 2nd Annual NHRA National Hot Rod Reunion held at Bowling Green, KY.