John Marcum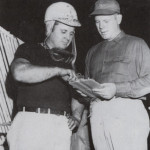 After having been involved in auto racing as a driver for a number of years, John Marcum drove his last race at the sand beach course at Daytona Beach in the mid '40's. Bill France, Sr. hired John as a NASCAR official and so for the next five years Marcum presided over various aspects of NASCAR events.
Marcum returned to his native north country in 1953 to form his own sanctioning body, the Midwest Association for Race Cars (MARC). Combining his expertise as a NASCAR official and years of driving to establish the organization, he found that by sanctioning and promoting weekly events at local tracks, he both paved the way for his traveling "new cars" circuit to acquire race dates and increase MARC membership substantially. Within 10 years, Marcum's group was the third largest in the country.
Bill France reentered the picture in 1964 when he invited Marcum to bring his cars and drivers to Daytona. "February Speedweeks" was being organized and John Marcum quickly seized the opportunity to allow his group to participate. The northern label of Midwest Association for Race Cars was changed to Automobile Racing Club of America, (ARCA), to give the organization more widespread recognition.
ARCA quickly gained prominence with Marcum enforcing more rigid safety regulations and advanced restrictions. By the early '70's 500,000 spectators annually saw the ARCA National Championship Stock Car Division compete in 30 races yearly, covering fully half of the United States. John Marcum's barnstorming band of sedans had evolved into a prestigious and technically advanced entity.
In addition to his ARCA activities across America, John Marcum had been promoting weekly racing since 1962 when he started promoting at Flat Rock Speedway. John continued to promote Flat Rock and ARCA till his passing away in 1981. (1916 - 1981)