Mauri Rose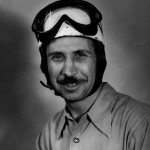 Born in 1906 in Columbus Ohio, Rose began his driving career in 1927 on the Ohio dirt tracks. His first try at Indianapolis came in 1933 running a modified Studebaker. He was running 4th when the car broke at 125 miles. The following year he finished 2nd to Wild Bill Cummings and started a string of qualifying for 10 straight Indianapolis races.
1936 found him finishing 4th at Indy, but he won the AAA National Championship. 1940 brought a 4th at Indy. In 1941 Mauri Rose was driving for Lou Moore when his car dropped out with mechanical problems. Rose immediately told Moore that he was going to seek a ride as relief for another team.
Moore pulled his other team car in, driven by Floyd Davis. Rose took the car over in 14th place, and at 225 miles was 9th, 4th at 300 miles and took the lead at 425 miles and was never headed for his first of three Indianapolis victories.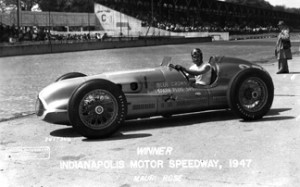 In 1946 Rose crashed into the retaining wall and was thrown out onto the track, but not seriously injured. Mauri Rose and Lou Moore now picked up two straight victories. They were really hooked up and unbeatable. Rose's winning determination, with Moore's superior equipment and careful planning was hard to beat. 1941 was the year of the controversial pit signals from the Moore team as Bill Holland was given the E-Z sign and Rose motored by Holland, with only a few laps to go, for his 2nd 500 win.
In 1948, after a battle with Indy greats such as Duke Nalon in the famed Novi, Ted Horn and Rex Mays, Rose captured his 3rd Indy 500 win.
Lou Moore almost had his cars finished 1-2-3 in 1949, but with 8 laps to go, Rose's car broke while he was running in second place. An argument broke out between car owner Moore and driver Rose after the race and Mauri quit the team.
1950 found Rose driving for Howard Keck but a fire in his pit caused too much lost time for Rose to catch leader Johnny Parsons when the rains shortened the race. 1951 brought the curtain down on the great driving career of Mauri Rose when, again at the wheel of a Keck car, a wire wheel collapsed and the car flipped, but Rose escaped injury, and retired from racing on the spot. He spent the remaining years of his life as an engineer for General Motors. January 1, 1981 brought in the New Year in a very sad way for racing fans, for on this date, Mauri Rose passed away at his home in Warren, Michigan at age 74. (1906 - 1981)