Mildred Marcum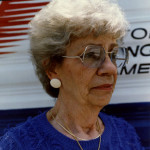 Mildred Marcum began her working career in motorsports in the mid 1940s and was still active until her death at age 98.
Her husband, the late John Marcum, raced in the Midwest and on the beach course at Daytona in the 1940s, where John and Mildred met eventual lifelong friends and business acquaintances of Annie and Bill France Sr. In the late 1940s and early 1950s, while John worked with Bill Sr. and learned about organizing, promoting and officiating stock car auto races, Mildred began a lifelong career of working the administrative side of the business. Initially performing the hands-on functions of selling tickets, programs and concessions, food and beverages, she soon moved into management of those activities in addition to bookkeeping and accounting. One of Mildred's earliest memories of working at race events involves selling tickets from a nail apron at a Bill France Sr. promoted Daytona Beach course race.
In 1953, the Marcums founded a pair of motorsports companies in their home of Toledo, OH: the Midwest Association of Race Cars (MARC), a sanctioning body for organizing and administrating races and licensing and insuring competitors which would evolve into the present-day Automobile Racing Club of American (ARCA); and Marcum Promotions, formed to operate the grandstand side of the racing business, advertising and promoting events, renting and leasing tracks for races, selling tickets and concession goods, arranging for sponsorships and managing tracks. While both Marcums were principals in each corporation, John specialized in racing-related matters while Mildred oversaw financial and administrative activities, a tandem effort which would exist until John's death in 1981. Mildred's role in ARCA has often been compared to that of Annie France's in NASCAR.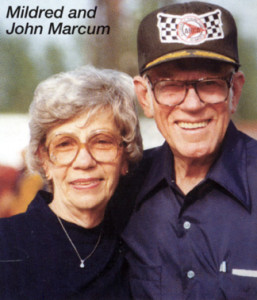 In 1953 MARC sanctioned the MARC Circuit of Stars tour, comprised of fields of racecars which were little more than street legal automobiles with numbers painted on. The Marcums quickly found that by sanctioning and promoting weekly events at local tracks, it not only paved the way for a traveling New Car circuit, but also increased MARC membership substantially. Within 10 years, MARC trailed only NASCAR and USAC, formed in 1956 when AAA left the sport, in terms of size and recognition. Promoting weekly and special event races in Michigan, Ohio, Indiana and Pennsylvania, the Marcums were instrumental in bringing about organization to the fledgling sport in the region.
Bill France Sr. invited the Marcums to participate in February Speedweeks in 1964 at the 2.5 mile Daytona Int'l Speedway and encouraged the pair to alter the Midwest reference in the sanctioning body's name to reflect its more wide spread scope of activities. The resultant ARCA tag proved well deserved, as the series has now sanctioned race events in over half of the 50 states.
Among the tracks at which Marcum-managed companies have either promoted or sanctioned weekly racing include Flat Rock Speedway, Mt Clemens Race Track, Spartan Speedway and Jackson Speedway in MI; Toledo Speedway, Cloverleaf Speedway, Lorain Co Speedway, Painesville Speedway, Dayton Speedway in OH; Baer Field Raceway in Indiana. Also she is the co-founder of Marcum Promotions, which has administrated weekly racing at Flat Rock Speedway since 1962 At one point in time, between John and Mildred Marcum, they were promoting and managing tracks which included racing activities 6 nights a week.
Still extremely active at 86, Mildred Marcum reports for work daily at the ARCA office in Temperance MI, where she remains as Treasurer of the organization, and works as many as 4 race nights each summer weekend as the ticket office manager at both Toledo Speedway in OH and Flat Rock Speedway in Michigan. Marcum Promotions today manages a 60 event annual schedule at Toledo and Flat Rock Speedways. ARCA also sanctions an additional 50 touring series events throughout the eastern United States. (1914 - 2012)