Glen Rockey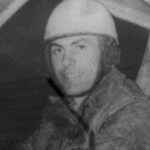 "The wild man of racing" is the only one liner to describe the late Glen Rockey! Glen's life came to an abrupt halt on September 13, 1959 when he came full bore into turn four at Berlin's old 1/2 mile dirt track, and stuffed Lefty TerHaar's #32 super modified head on into the concrete wall.
The Glen Rockey story started June 17, 1927 in Muskegon and continued until Glen got hooked on racing back in 1947 when he started competing in what was called hot rods at Whiskey Ridge Raceway in Muskegon and the Marne Speedway (later to be called Berlin Raceway) with the Track master Racing Club.
Hooked on racing is the right terminology, because once he stepped in a race car, everything else in the world ceased to exist for Rockey and he developed an obsession for racing that never subdued. Off the track, Glen was everybody's friend, a happy go lucky guy who seemed to be always late, which was exemplified by the fact that many times Rockey's hauler would pull into the track with Glen standing on the trailer working on the car.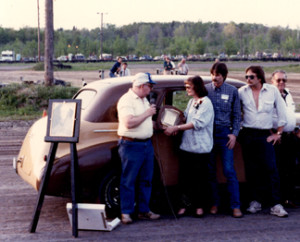 Even though Rockey did most of his racing in Western Michigan and at Berlin, he also ran a lot of sprint car races in the 50's at tracks as far away as Pennsylvania. He also competed in the Little 500 at Sun Valley Speedway in Anderson, Indiana.
Glen also had some close calls, as for example at a 500 lap per held at the lonia Fairgrounds in 1951 he flipped Joe Bisocki's car in turn three, got out of the car and kneeled over from shock.
Glen's dream was to run the Indianapolis 500 and he seemed to realize that time might run out on him because he drove every race to his absolute limit. He'd run Berlin's half mile dirt track and come into turn four so hard he banged his wheel off the wall to straighten him out enough to go shooting down the straightaway.
Rockey was part of an era that produced some hard driving. Many of the top drivers were fatally injured during that period. It was a no holds barred kind of racing atmosphere and Rockey knew how to run flat out every lap even if he had the Lead. Perhaps that was what did him in because on September 13, 1959 Glen Rockey never got past the fourth turn of Berlin's tough half-mile. The track that he had tamed so many times reached out and bit him bad.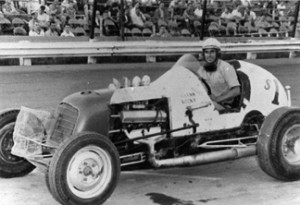 Glen Rockey's career never had the right opportunities to blossom, as he might have wanted it to because he never put together the right winning combination of affluent car owner and his right foot. So, for most of his career Glen drove his own equipment, which meant that it was low, budget but always fast enough to be in victory lane. It was a time of brave drivers and who knows, maybe Glen Rockey was too brave? (1927 - 1959)