Johnny Roberts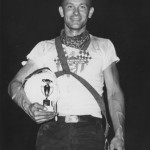 Johnny Roberts started racing in 1947. After seeing a sprint car race at the Saginaw Fairgrounds he knew he liked race cars and at the age of 16 he bought his first racer. This was a Model A Ford Roadster with a Willy's 4 cylinder engine. Johnny recalls that he bought this car with the intention of being a car owner and hiring a driver. After towing his new prize to the race track and finding no drivers willing to run the car, Johnny assumed the driving job, too.
It took Johnny nearly two years to win his first feature, but after that initial win he quickly established himself as one of the premier drivers in the state. For the next ten years Roberts raced in all classes of cars with great success on all types of tracks in Michigan and other states in the Midwest.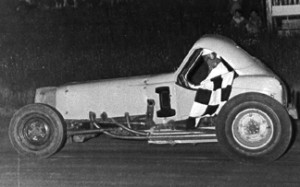 Johnny's driving talents were easily recognized wherever he raced and of equal significance were his mechanical and car building abilities.
In 1957 Roberts built and raced a radically different car in the modified class, which was the top group of cars run on a weekly basis throughout the Midwest. This car featured a cut down and narrowed Crosley body with a tiny cockpit. A Studebaker engine powered the car. The yellow car's appearance was as striking as it's performance. Roberts seemingly won at will on short or long tracks, be they paved or dirt.
This car caused fervor in the racing community and was soon copied in varying degrees by many racers. This new group of cars were called super modified'' and thus began one of the most popular classes of open wheel race cars to ever compete.
By this time Johnny was a regular competitor on the traveling sprint car circuits as well as in late model stock cars. He filled in any open dates with super modifieds.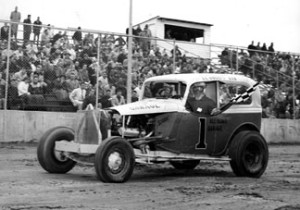 In 1957 Roberts also began manufacturing a quick-change center section which he sold to other racers. By 1959 Johnny had an enviable career as a driver of great success and was definitely pointed towards big time racing on a national level.
However his career temporarily ground to a halt when Johnny was involved in an accident at the Ionia Fairgrounds that left him with a broken neck and serious internal injuries. This ended his racing for the balance of the year. Late in 1960 Johnny resumed racing in the super modified ranks.
During the early sixties Johnny continued racing super modifieds but started shifting his emphasis to the late models and soon was devoting most of his time to racing in this class. He was one of the first of the Michigan racers to run at the Daytona Super Speedway. In 1965 Johnny was involved in a horrifying crash at Daytona which was shown on national television. Fortunately, his injuries were not as serious as one would have imagined and by the following week Johnny drove himself back home to Breckenridge.
Roberts occasionally got behind the wheel of a stock car but spent most of his time helping his son prepare his late model racer until his death on November 9th, 2012 at the age of 81. (1931 - 2012)