Jeff Bloom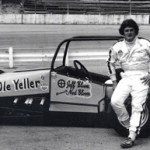 Jeff Bloom started his racing career in 1967. He has posted victories in three of USAC's difficult Sprint Car, Stock Car and Championship Dirt Car (Silver Crown) division. Only three other drivers, A.J. Foyt, Mario Andretti and Ken Schrader, have accomplished this feat. Yet Jeff is the only one to score victories in all three divisions on paved tracks.
Jeff finished fifth in ASA Sprint Car points in 1972, in his rookie season in Sprint Cars. He won two races and was named "Rookie of the Year". That year he also ran Late Models and won eight features in the Stock Cars.
Jeff won the prestigious "Little 500" (a 500 lap sprint Car classic starting 33 cars on a high-banked 1/4 mile oval) in Anderson, IN as a rookie in 1972. He repeated as "Little 500: champion in 1977 and 1991. he is only one of four drivers to score three or more victories in one of racing's most grueling events. He has qualified for the front row seven times for the "Little 500". He was inducted in the "Little 500 Hall of Fame" in 1996.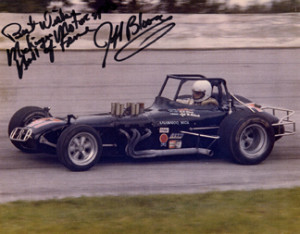 Jeff has also won the prestigious Tony Hulman Classic in 1990 and the Joe James/Pat O'Connor Memorial in 1976.
Jeff has over a hundred feature wins in many states in Stock Cars, Sprints, Supermodifieds and Silver Crown cars. He currently holds the one-lap world record at South Bend Motor Speedway's 1/4 mile paved oval at 10.046 seconds and world record for a 3/8 mile oval at Orange County Speedway in North Carolina at 11.661 seconds.
In 1981, Jeff was one of the few Silver Crown drivers invited to participate in the "Pocono 500" for Indy car. Jeff, after starting 23rd in a Championship Dirt Car, was running in ninth position before being sidelined with engine problems. He lapped the next fastest Championship Dirt Car three times before dropping out.
While Jeff has scored numerous feature wins since he started racing, he has also chalked up nearly a thousand top-ten feature finishes.
Jeff leads his own racing operation as driver, owner and crew chief. his wife Linda and son-in-law Jeremy help pit-side, his daughters Patty (and her husband Matt), Amie and Jennifer, along with granddaughter Morgan and grandson Logan travel to most of the events, making this a real family affair.
Jeff was inducted into the National Sprint Car Hall of Fame in the summer of 2013.
2014 marked an unpresidented 35th year that Jeff qualified for the "Little 500"