Johnny Ritter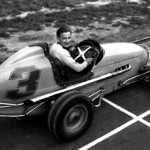 The mighty mite of midget racing was little Johnny Ritter, who just barely broke five feet tall with a 1/2 inch to spare. Johnny was born in Austria on August 27, 1910. His family moved to America in 1920 and settled in Saginaw, Michigan. Ritter started his racing career in 1934 at Davison, Michigan in the big car ranks.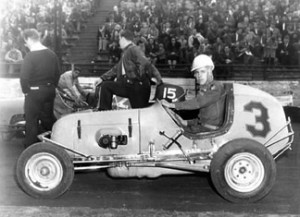 Many of Ritter's fans claim his best race ever occurred early in 1937, when he out drove a stellar field of the country's top midget drivers at the Chicago Armory indoor title event.
Johnny put on his greatest display of driving skill in early May of 1948. He had started the season as an owner-driver and was maintaining two cars. Both cars carried Johnny's favorite yellow paint job and lucky #3, with a 4-60 Elto outboard and an Offenhauser for power plants.
Johnny Ritter's career ended at Medford, Massachusetts on October 12, 1948. He was fatally injured by an out of control race car while fixing a tire on his own car in the infield pit area. He was just 38 years old. (1910 - 1948)