Harold Reynolds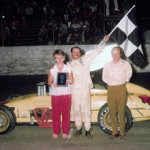 In the summer of 1957, at the age of 16, Harold Reynolds began his racing at the local race tracks. His first wins came at the Galesburg Speedway in a two-door coupe powered by a six-cylinder. His racing career moved rapidly and success soon followed. During his first seven years of racing, he had raced at Butler, Avilla, Manchester, Eldora, (OH) and Williams Grove (PA). The number on his car was 61.
In 1962, Harold and his close friend Marv Carman worked on, and co-owned the car Harold drove. They worked diligently to make their car competitive at the area tracks in the sportsman and modified divisions. The early sixties were very rewarding times for this young racing team. Harold recorded countless feature wins, heat and pursuit wins, and set fast time on many nights. He had also held track records at Butler and Avilla Speedways. In the mid-sixties, Harold and Marv built a car they nicknamed the Batmobile. The two friends shared all duties with the car and work exceptionally well together. They won several races in the #61. It was their pride and joy. Harold also won races driving Jim Stevens' #140 and Rex Craig's #78 sportsmen cars. Harold began to build Late Model cars. He preferred Chrysler makes.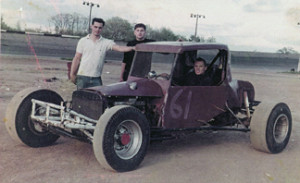 In the late 1960's and early 1970's, Harold and Marv went their separate ways. Marv was now pursuing his own racing career. The two remained close friends and in the future, would compete against each other on several occasions. Harold had built and was driving one of his favorite cars, an orange Barracuda Late Model. The car was light, fast and handled great and Harold experienced a lot of success in this car. He also continued to drive on an "as needed" basis for other car owners.
In the mid-seventies, Laura and Neil Devlin asked Harold to drive their Sprint Car, a purple #81. He agreed to drive for them and a new friendship evolved. In 1975 and 1976, they raced at the area tracks, predominately at the Kalamazoo Speedway where they recorded most of the team's victories. During this same time, he occasionally drove a midget for "Fat Jack" or "Gleason". The man's real name is still a mystery to us. He also drove for Bob Burles, and a few other car owners at big events in Ohio and Iowa.
In 1977, Harold drove Bruce and Norma Carpenter's, and Jim Blowers' roadster, a yellow #49. Success came quickly for the team. It took only three weeks to win their first of many features of that summer. They races on pavement and dirt and subsequently won at least one feature (or more) at Kalamazoo, Butler, Berlin, and Crystal. They also raced in Sandusky, Lorain and Columbus, Ohio; Winchester, Indiana; and Delaware, Ontario. Several wins throughout the summer earned them a third place finish in the TRI-Sac Points Championship.
In 1978, Harold drove a new sprint car for Howard "Doc" Ely, a blue #5. Harold won the first feature he ever raced in the car. It was the Sammy Sessions Memorial at I-96 Speedway. They ran the SOD series and placed in the top five in every race he and "Doc" ran with one exception.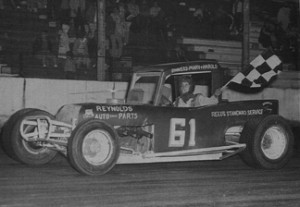 Harold also drove Bernie Bennett's rear-engined car that summer. The car had previously been driven by Sammy Sessions at the Indianapolis Motor Speedway. On their third week of competition, July 5th, 1978 Bernie and Harold won a TRI-Sac feature at Kalamazoo Speedway.
Harold continued to drive for "Doc", Bernie, and a few other car owners throughout the late seventies. He was also taking time to build a Late Model for his son Scott. When the car was finished, Harold drove it a little but due to his desire and demand to drive the Sprint Cars, Scott would end up driving the car more than Harold. In 1980, Scott purchased a Sprint Car that he and Harold drove at the area tracks. In the early eighties, Harold drove his son's Sprint Car on occasion at Butler and Crystal.
In 1983, the Carpenters had completed the restoration of their roadster. Harold and the "mechanical rabbit" were back in action and would have their debut attempting to qualify for the "Little 500" in Anderson, IN in May of that year. During the hot lap session, tragedy struck. Harold and the yellow #49; pushed out of turn four and struck the wall. The throttle stuck and the car continued to bounce off the front wall until finally stopping near turn one. Harold had suffered a serious internal head injury that he would never recover from. He never regained consciousness.
Harold Arthur Reynolds died, July 5, 1988 as a result of the injuries he sustained in his final race. A scholarship in his honor is presented at the Athens Area Schools, and his sons continue to be involved in motorsports. (1940 - 1988)